When it comes to the dining scene in Chicago, certain foods and spots just stand out. Maybe the Michelin three-star molecular gastronomy darling Alinea comes to mind, but the reality is that deep-dish pizza and hot dogs also get rave reviews on the regular—and with good reason. Here's a look at where to get a taste of the two staples that have become very much part of the city's cultural fabric.
Cheesy Goodness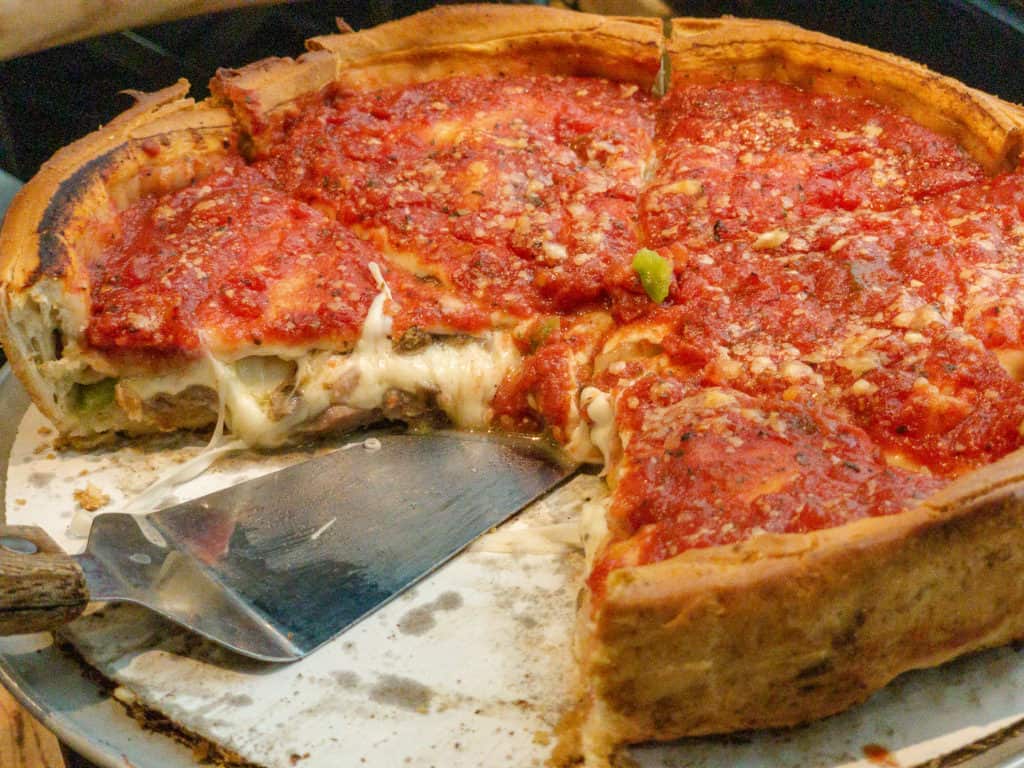 No offense to thin crust pies, but deep-dish pizza dominates this town. In fact, loyalists say the thicker the better. The Chicago-style creation has a rich history and was invented at the original Pizzeria Uno location back in 1943. However, in case you're not sure of what exactly makes deep-dish different from any other kind of pizza, here's a little primer. Along with the obvious thick, two- to three-inch crust, the actual construction strays from the standard with deep-dish pizza layered first with cheese, meat, vegetables and sauce going on last. Next, it's baked to perfection, and ready to get in your belly. Food lovers who want to explore their taste buds as well different neighborhoods have plenty of guided options. Chicago Pizza Tours offers The Big Shoulders Tours, a fun three-hour experience that makes stops around The Loop, River North, Streeterville, and The Magnificent Mile to compare and contrast Stuffed, Sicilian, Deep-Dish, and Pan pizza from Bella Bacino and Dough Bros, among others. For a little lesson on the city's past, consider the Chicago Food and History Tour by Tastebud Tours. This fascinating excursion includes a stop to Pizano's Pizza and a chance to see famous sites in the Downtown Loop area.
Hot Dog Like No Other
In this city, a quintessential thing to do is to head out to Wrigley Field to enjoy two iconic institutions: the Chicago Cubs and a Chicago-style hot dog. The latter is not a measly old frankfurter in a boring bun either. Au contraire. Instead, the midwest version is all beef in a natural casing served in poppy seed bun and topped with very specific ingredients: yellow mustard, green relish, chopped onions, tomato wedges, pickle spears, sport peppers, and a pinch of celery salt—no ketchup, not even a small drop. Curious about how the Chicago-style hot dog came to be? Well, in leaner times, hot dogs proved to be a convenient, cheap, and satisfying staple, but really caught people's attention after two immigrants sold them from a street stand during the Columbian Exposition. Eventually, local vendors got around to putting their own flavorful spin on them, but only one version would remain the top choice until this day. The enticing Best in Chow Food Tour by Chicago Food Planet takes groups to River North and Streeterville to try the famous Chicago-style hot dog at Portillo's, originally founded as a hot dog stand in 1963 by two brothers and has since grown into a casual restaurant chain. There are more exclusive Chicago eats to try during this three-hour experience including deep-dish pizza at Lou Malnati's, the Italian beef sandwich at Al's Beef, Garrett Popcorn made where else but Chicago, and the scrumptious Chicago-created brownie at Copper Fox. Bobby's Bike Hike Chicago offers the Chicago Favorites Walking & Food Tour which includes stops to beloved food establishments as well as the chance to see landmarks including Cloud Gate, aka "The Bean" in Millennium Park and the State Street Historic District, along with other popular points of interest.
There is much to discover in Chicago food land. Whether you're into deep-dish pizza or hot dogs, there is no shortage of tasty bites around town. Oh, and be sure to mark your calendar for the Chicago Hot Dog Fest August 9-11, 2019 in Lincoln Park presented by the Chicago History Museum, which is steps away.