Surveying the Chicago hotel scene, Majestic Hotel comes across as a relatively unique establishment. It occupies a quiet spot on an otherwise residential, tree-lined street in Chicago's Lakeview neighborhood. The staff is well-known for their friendliness and hospitality, while the hotel itself features on-site amenities like parking, complimentary continental breakfast, and free Wi-Fi. Its location is a subdued one—it is in a much quieter than many other Chicago hotels—yet when you stay here you'll quickly find it's still really easy to get to all of Chicago's most famous attractions and popular sites.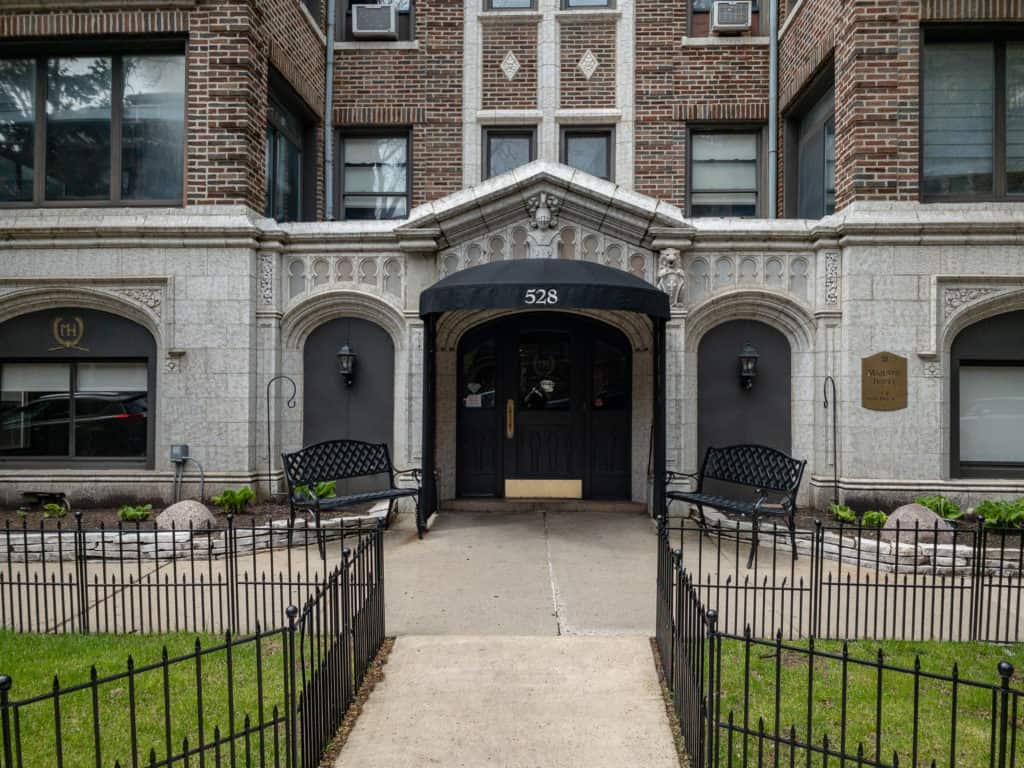 Majestic Hotel Ambiance
Majestic Hotel bills itself as combining "boutique flair with classic charm," and it's hard to argue with that description. The exterior of the building is imposing yet inviting—with its limestone-and-brick façade, leafy terraces, and generous windows, it resembles a cross between an English country estate and an upscale modern American apartment complex. Inside, the combinations are even more immediately odd but charming. The lobby mixes blonde-wood floors and walls with dark-green accents—it's all somewhat evocative of a tasteful ski lodge—with Chicago Cubs paraphernalia. Baseball fans will love it—an assortment of souvenir balls, bats, gloves, and artwork dominate the artwork here. One wall even has framed sketches of every Cubs legend from Ron Santo to Ryne Sandberg to Ernie Banks!
Majestic Hotel Rooms
Majestic Hotel is home to 52 different hotel rooms. Given the building's age and history, the rooms tend to vary in size and layout. However, typically they come standard with a single queen or king bed. Suites are available that have 2 queen beds or 1 king bed and a separate sunroom space.
The in-room décor here is subtle, restrained, and tasteful. Think dark brown furniture with soft mint green walls, bedding, and carpet. Lighting is ample in each unit, and many rooms even come with a ceiling fan. Every room has some sort of small desk and chair suitable for checking directions or sneaking in some quick work. Wi-Fi access comes with your room rate, too.
Other in-room amenities available at Majestic Hotel include a flat-screen television, a fully stocked minibar, and 24-hour coffee/tea service. Suites at Majestic Hotel also come with a kitchenette, where you'll find a microwave and mini-fridge. They also contain a full-sized pull-out sofa bed.
The bathrooms are small but modern. Each room at Majestic Hotel features a bathroom that has a shower and built-in tub combination, as well as a full-sized sink and mirror. You'll also have access to a host of luxury bath products. The bathroom décor here tends to be a mixture of wallpaper and tile, often done up in cheerful yellows, whites, and pinks that evoke spring and its annual bouquet of flowers.
Majestic Hotel Amenities
The amenities at Majestic Hotel are centered around its charming lobby, with its beautiful hardwood floors and green walls lined with shelf after shelf of baseball-themed memorabilia. There you and your family/traveling group will be able to enjoy complimentary continental breakfasts each morning. You'll also be welcome to coffee and/or tea 24 hours a day.
Majestic Hotel is well-regarded for its cheerful hospitality, a trait and reputation buoyed by the fact that every afternoon they put out fresh-baked cookies for their guests to enjoy at their leisure. You'll want to grab one (or three!) cookies and savor them while lounging in the lobby and making good use of the free building-wide high-speed Internet available to you.
Parking is available here, too, and they also offer guests complimentary access to a full-service fitness facility located just down the street from the hotel. Plenty of public transportation may be accessed from right near the hotel's front door as well.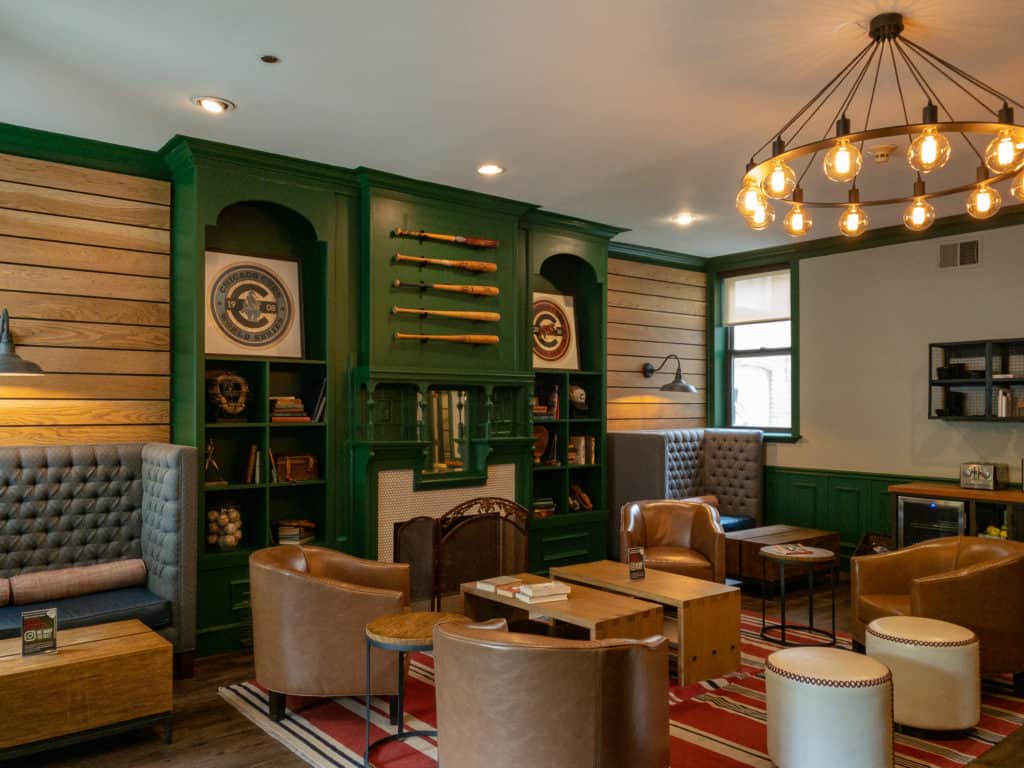 Majestic Hotel Neighborhood
Majestic Hotel is located in Chicago's beautiful Lakeview neighborhood. A stay here gives you the best of both worlds. On one hand, you're experiencing being in the midst of one of Chicago's most pleasant local neighborhoods. On the other hand, though, you're still right in the heart of everything the city has to offer. Majestic Hotel is just steps from Lake Shore Drive and Lake Michigan, while the home of the Chicago Cubs, Wrigley Field, is just a 10-minute walk to the west. There's plenty of great spots to eat and drink in between, and most of Chicago's most popular attractions aren't hard to find or get to from here either.
A mix of other suitable accommodations are located close, too. These options include Hotel Lincoln, Chicago Athletic Association Hotel, Hotel Chicago West Loop, Hotel Felix, Warwick Allerton, Hilton Garden Inn Chicago Downtown/Magnificent Mile, Four Seasons Hotel Chicago, Club Quarters Hotel Central Loop, Swissôtel Chicago, and many, many more.n