Hotel Chicago West Loop is home to 116 distinctive hotel rooms comprised of a variety of shapes, sizes, and layouts. This relatively new entrant to the city's hotel market strives to bring boutique-style accommodations to guests at solid rates. Located in Chicago's West Loop—currently considered one of the city's most happening neighborhoods—Hotel Chicago West Loop is a nice option for those visitors to the city who want to not just go out to eat, drink, and shop in this hip area, but would actually like to enjoy the convenience of staying there. Plentiful bars and restaurants are found nearby, as are many of the city's most popular attractions. Hotel Chicago West Loop also offers guests amenities like on-site parking, a fitness center, pet-friendly rooms, and even access to an in-house art gallery.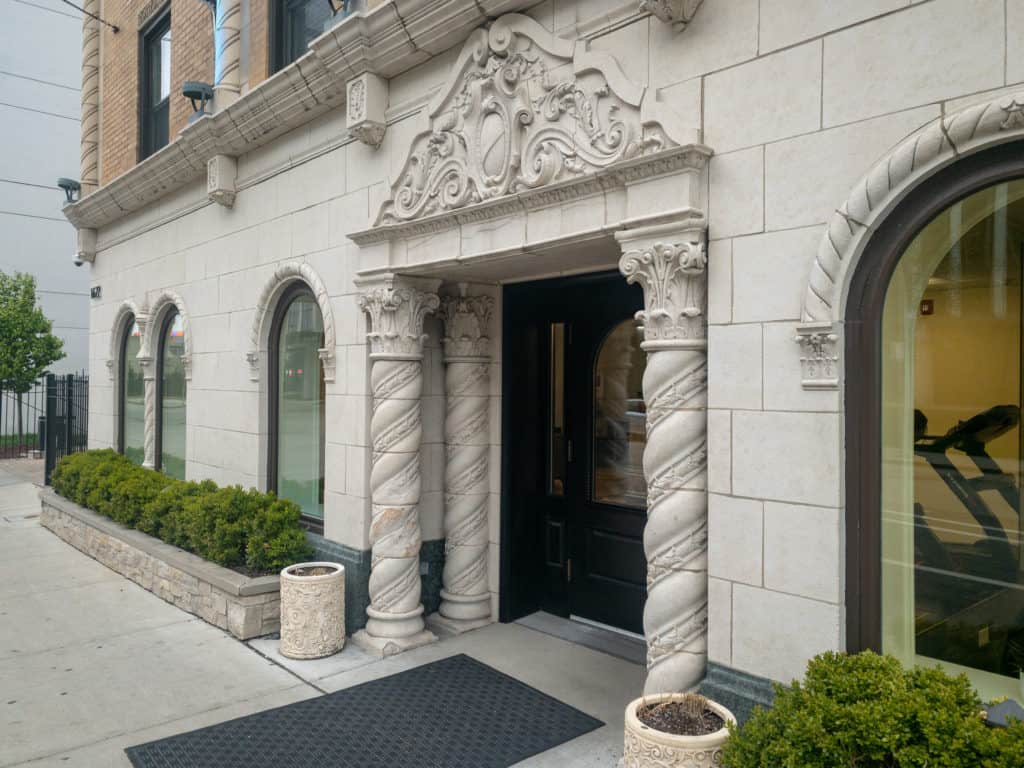 Hotel Chicago West Loop Ambiance
While the exterior of Hotel Chicago West Loop is a blocky brick building likely dating to the early parts of the twentieth century that exudes a kind of historic character, inside the lobby comes off as the sort of ultra-modern waiting space you might encounter at a high-end spa. There you're greeted by marble floors and a chandelier. Ahead of you is the small front desk, with its frosted-glass background, and to your left is a waiting area filled with granite-topped coffee tables set between gray leather couches. To the right is Hotel Chicago West Loop's very own in-house art gallery, The Annex. There you'll be able to check out a vibrant permanent collection of diverse artworks, as well as whatever compelling special temporary exhibit they've got going on during your stay. Many of the permanent collection's pieces are displayed on the walls throughout the lobby and corridors, giving the hotel a sophisticated and engaging feel.
Hotel Chicago West Loop Rooms
There are several different room options available at Hotel Chicago West Loop, all of them rather cozy. The Petite Suite checks in at 150 square feet and features a single double bed, while the standard full guestroom at Hotel Chicago West Loop also features a single double bed and is about 175 square feet in size. If you're feeling adventurous, or traveling with good friends, this standard guestroom is also available in an option that comes with bunk beds! For something more conventional, you can consider the Queen Deluxe room (180 square feet with 1 queen bed) and/or the King Deluxe room (235 square feet with 1 king bed and a somewhat-larger bathroom).
In-room amenities at Hotel Chicago West Loop include a microwave, refrigerator, and Keurig machine placed in every room, as well as complimentary in-room wireless Internet access. All rooms also have a 42-inch, high-definition, flat-screen television, plus a small desk-and-chair combo perfect for getting some work done or playing on your computer.
The in-room décor here varies a bit depending on the type of room you select. However, on the whole, the vibe here is decidedly straightforward. These casual spaces feature bare hardwood floors and light-blue walls sparsely adorned with only the occasional black-and-white photograph of a Chicago landmark or neighborhood scene. These are no-frills, functional rooms—and that's true of the bathrooms, too.
The most exciting lodging options here at Hotel Chicago West Loop are most likely the six guest rooms here that feature elaborate wall murals completed by artists whose work has been displayed in the hotel's very own art gallery, The Annex. These remarkable pieces of art liven up these rooms in striking ways, and what's more, when you book one of these special rooms, 10% of your room's rate is donated to local non-profit organizations that promote the local arts community.
Hotel Chicago West Loop Amenities
There are a number of amenities available to guests of Hotel Chicago West Loop. All guests receive access to complimentary high-speed Wi-Fi service. On-site parking is available here, too, for the good price (considering the area/market) of $25 per night. Parking at Hotel Chicago West Loop also comes with unlimited in-and-out privileges for all cars. There's also a gym here that guests may use 24/7.
Hotel Chicago West Loop considers itself to be one of the most pet-friendly hotels in the entire city. For a $50 fee, all pets are welcome here, and the front-desk staff are happy to direct you and your furry friend to any number of the area's local parks, beaches, and/or dog parks. They'll even be glad to pass along a helpful tip about which restaurants in the neighborhood are the most pet-friendly.
The most unique element of the Hotel Chicago West Loop experience would have to be The Annex. The Annex is an art gallery that is actually housed within Hotel Chicago West Loop itself. The Annex's permanent collection is displayed throughout the public spaces of the hotel, and it regularly hosts rotating special exhibits featuring artwork from some of Chicago's most talented and creative artists.
Hotel Chicago West Loop Neighborhood
Hotel Chicago West Loop is located in the general vicinity of one of Chicago's hottest neighborhoods, the trendy West Loop. The United Center—the house that Michael Jordan built, and home to the city's beloved Chicago Bulls and Chicago Blackhawks—is just three blocks northwest of here. Transportation hub Union Station is just five minutes due east, and right next to it you'll find world-famous Willis Tower and its popular Skydeck Chicago attraction. The hip bars and restaurants of the West Loop area are also only five minutes north of Hotel Chicago West Loop. Meanwhile, favorite tourist sites like the Museum Campus, Art Institute, and Millennium Park are not far away either.
Additional lodging is available nearby, too, and includes such choices as Four Seasons Hotel Chicago, Hilton Garden Inn Chicago Downtown/Magnificent Mile, Hotel Felix, Majestic Hotel, Warwick Allerton, Hotel Lincoln, Swissôtel Chicago, Club Quarters Hotel Central Loop, Chicago Athletic Association Hotel, and many, many more.