Part of Chicago's acclaimed Museum Campus, Shedd Aquarium occupies a spectacular location right on Lake Michigan just south of Grant Park, between the Field Museum and Adler Planetarium. Shedd Aquarium is consistently rated as one of the world's finest aquariums. It is home to approximately 32,000 animals, consisting of roughly 1,500 unique species. Shedd Aquarium features an eclectic range of exhibits and habitats that contain everything from saltwater fish to marine mammals to even an assortment of birds, insects, and amphibians.
This attraction is included on two money saving tourist passes.
The Shedd Aquarium is included on the Chicago CityPASS and Go Chicago Pass. Buy the CityPASS if you just want to got a few of the most popular attractions. Choose the Go City Card if you are seeing many sites and a tour or two. Save an additional 10% on the Go City Card with Coupon Code: CMGOCITY10 The discount stacks on top the current sale prices! Promo expires on November 30th.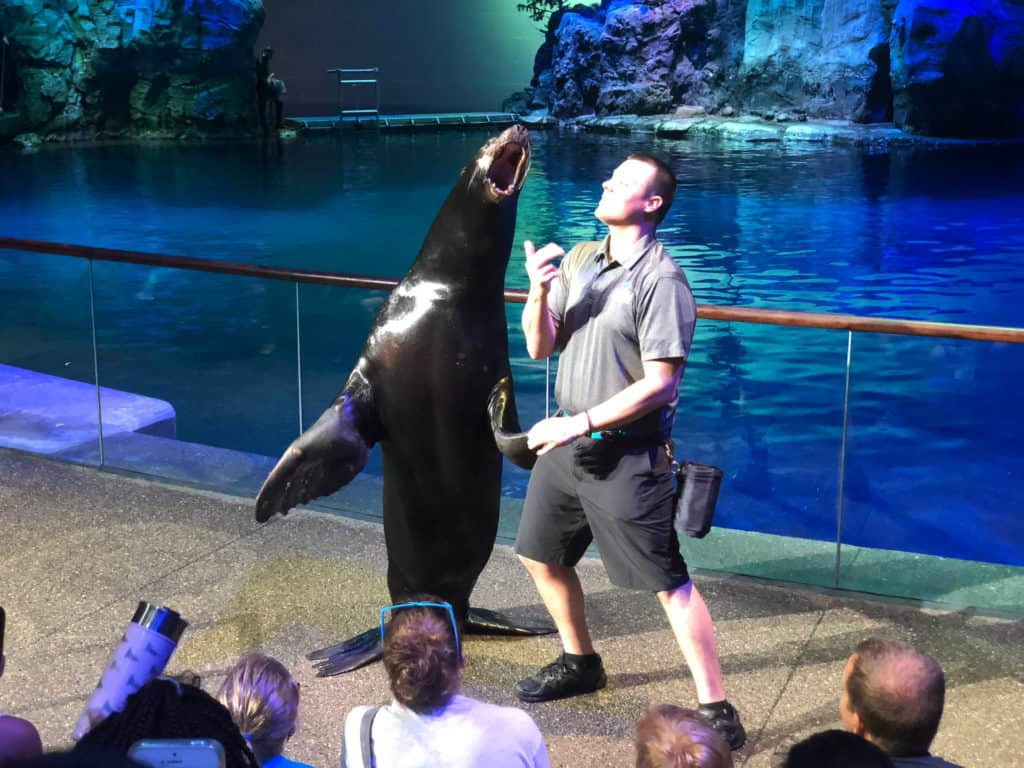 Shedd Aquarium History and Background
The Shedd Aquarium as we know it today grew out of the local philanthropy of John G. Shedd, president of iconic Chicago department store Marshall Field's. It was Shedd's dream to add an aquarium to Chicago's educational and cultural offerings, which in the first part of the twentieth century already included the Art Institute of Chicago and the Field Museum. Shedd donated over $3 million to make his vision a reality. The Shedd Aquarium's stately white-marble structure was completed in 1930, and named a National Historic Landmark in 1987. Among its many notable accomplishments is being the United States' first inland aquarium to contain a permanent exhibit of saltwater species. In the intervening years, Shedd Aquarium has undergone two extensive renovations/expansions. Today it routinely welcomes over 2 million visitors through its doors.
What's at the Shedd Aquarium
Shedd Aquarium is home to over 32,000 animals. Found amongst the many fascinating life forms in this tremendous facility are animals such as beluga whales, sea lions, dolphins, penguins, and a multiple species of sharks. There are several different ways to observe and even interact with these animals at Shedd; these experiences include chats with expert Shedd employees, live feedings and aquatic presentations, and even a host of optional "4-D shows."
Some of the most popular features of a visit to Shedd Aquarium are found as part of individual exhibits highlighting specific animals and aquatic habitats. These favorites include attractions like Amazon Rising, Caribbean Reef, Polar Play Zone, At Home on the Great Lakes, and the Abbott Oceanarium, where you can explore the wonders of the Pacific Northwest's coastal ecosystem.
There are several different dining experiences for you to choose from when visiting Shedd Aquarium. For a restaurant-style lunch in a pleasant spot with views of the lake, your best bet is Soundings Restaurant, where they serve wraps, burgers, and salads made from locally sourced ingredients. For a family-friendly menu, there's the Bubble Net; this food court has something for everyone, including sandwiches, burritos, and pizza. If you're in the mood for something more casual, consider the Deep Ocean Café or Stingray Touch, both of which have snacks like hot dogs, nachos, popcorn, and more. Soundings Café sells a mixture of coffee, pastries, and sandwiches.
There are a number of other amenities available at Shedd Aquarium. The Shedd Aquarium shop sells a wide variety of souvenirs like t-shirts, keychains, books, and stuffed animals of your favorite sea creatures. A selection of wheelchairs and walkers are provided for free to those in need; just inquire about complimentary rental at the Information Desk. Service animals are permitted at Shedd, although they are not allowed into certain exhibits throughout the facility; for more details, check their website.
Tips for Visiting the Shedd Aquarium
A great way to save money is to buy a Tourist Pass. Both Go Chicago Card, and Chicago CityPASS give you expedited entry to the VIP Entrance. In addition, CityPASS gives you admission to the $5 4D Experience. I's easy to get great value from either pass as the Field Museum is literally next door and the Adler Planetarium is a short walk away. All three places let you skip the line with either pass.
Shedd Aquarium's hours differ depending on the time of year and the day of the week. For more details, visit their website in advance of your visit.
As part of the Museum Campus, Shedd Aquarium is situated in the midst of a number of parking lots and garages. However, it is also accessible via city bus, CTA train, Metra train, and even bike. If one of these alternative methods of transportation works for you and/or your group, it might just save you a nice chunk of change!
Shedd Aquarium routinely has a slate of special events, workshops, lectures, family festivals, and more taking place on site. Check their online calendar before making the trip if you think you'd be interested in attending one of these unique events.
Many of the restaurants and cafés located at Shedd Aquarium are at their busiest in the moments immediately after one of the shows or performances. As a result, if you really want to try and avoid a crowd while dining, consider planning on eating during one of the special presentations you have no intention of attending.
If you'll be visiting Shedd during a time of year when the weather is suitable, consider bringing a picnic lunch with you. It'll save you some money, and there are many picnic tables located outside in Shedd's lawn area—where the views of Lake Michigan are breathtaking on a beautiful day.