Shoreline Sightseeing has been leading guided tours on Lake Michigan and along the Chicago River for approximately 80 years. For the past 20 years, they've been running their very popular Architecture River tour for local Chicago residents and visitors from all over the world alike. Throughout this well-regarded excursion you'll have terrific views of a number of Chicago's most significant buildings and architectural treasures, all while enjoying a pleasant boat ride that takes you down all three branches of the Chicago River.
Money Saving Tip! This tour is included in the Go Chicago Card as well as the Chicago Explorer Pass. Both Chicago Tourist Passes can save you a lot of money if you are going to multiple Chicago attractions.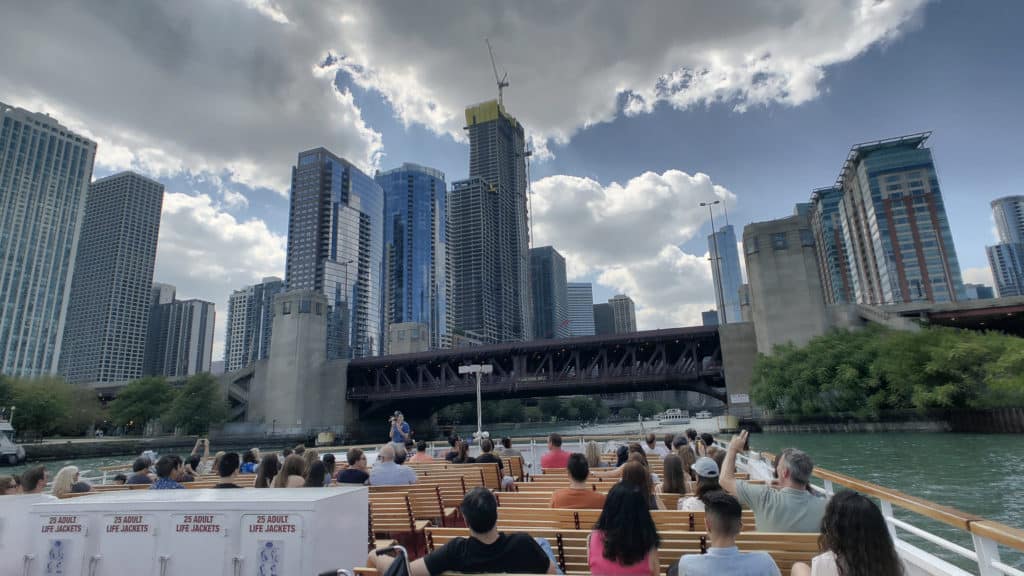 Architecture River Tour Details
One immediate perk of the Shoreline Sightseeing Architecture River tour is that it offers you with the flexibility of two different boarding options. You can join the Architecture River tour from Shoreline Sightseeing's docks at either Navy Pier or near Michigan Avenue—it's your choice of whatever's more convenient for you. From there, you'll be hosted by your professionally trained guide, who'll provide you an informative and entertaining narration highlighting some 40 different Chicago landmarks. In all, the Architecture River tour lasts approximately 75 minutes. From their Michigan Avenue location, tours typically depart every 45 to 60 minutes between the hours of 10:00am and 5:00pm—though availability does vary depending on time of the year and day of the week. Tours depart less frequently from Navy Pier, but there are still routinely multiple outings daily—just make sure to check their website in advance of your visit for more details. Tickets usually run in the neighborhood of $40 for adults and $20 for children between the ages of 3 and 12. Kids 2 and under can join the tour for free. Shoreline Sightseeing also operates a Spanish-language version of the Architecture River tour daily from their Michigan Avenue location.
Architecture River Tour Major Highlights
Tribune Tower: Situated just steps from the Chicago River, right along bustling Michigan Avenue, the Tribune Tower is a true Chicago landmark. This unmistakable neo-Gothic building was built in 1925 to house the offices of the Chicago Tribune, and it remains a beautiful symbol of the Windy City to this day.
Wrigley Building: Located just across the street from Tribune Tower, the Wrigley Building is regarded as one of the city's great architectural gems. Its iconic clock tower has loomed over Michigan Avenue and the Chicago River for almost a century, and is a must-see structure for any visitors to downtown Chicago.
Marina City: Though the famed "corncob towers" of Marina City are a perennial favorite of sightseers, the Marina City complex itself takes up nearly an entire city block of legendary State Street. Its home to a remarkable number of amenities, including (of course) a marina, multiple restaurants, a concert venue, and a bowling alley.
Merchandise Mart: Checking in at a whopping 4 million square feet in size, this colossal structure found right on the north side of the Chicago River was the single largest building in the entire world when it first opened in 1930. Merchandise Mart is such a massive facility that it even had its own zip code until a recent postal reorganization! Today it houses numerous shops and restaurants, while also serving as the office headquarters for many different businesses.
Is the Architecture River Tour for You?
Shoreline Sightseeing's Architecture River tour is consistently one of the most highly rated water-based guided tours offered anywhere in Chicago. Most Architecture River tour participants report back that they greatly enjoyed their experience with Shoreline Sightseeing, and that they particularly liked their personable and knowledgeable tour guide. The Architecture River tour isn't cheap by any means, but it's priced pretty similarly to other similar excursions—so if you're in the market for a guided tour of Chicago's many architectural wonders that cruises along the scenic Chicago River, this is likely a really good option for you and your group/family.