Navy Pier is a 3,000-foot-long pier that extends from the Streeterville neighborhood of Chicago east into Lake Michigan. Originally constructed in 1916, Navy Pier is a true Chicago landmark. It is one of the Windy City's most popular spots, consistently drawing millions of visitors each year. There local residents and tourists alike enjoy its exciting mixture of games, rides, dining, shopping, cultural activities, and more. Among its most famous attractions are the Centennial Wheel, Chicago Children's Museum, and the Chicago Shakespeare Theater.
Save on your visit to the Navy Pier Rides!
The Navy Pier Rides is included on the Go Chicago Pass and Explorer Pass. Save 10% by using the green booking link. The discount stacks on top the current sale prices! No Coupon Needed.
Promo expires on September 30th.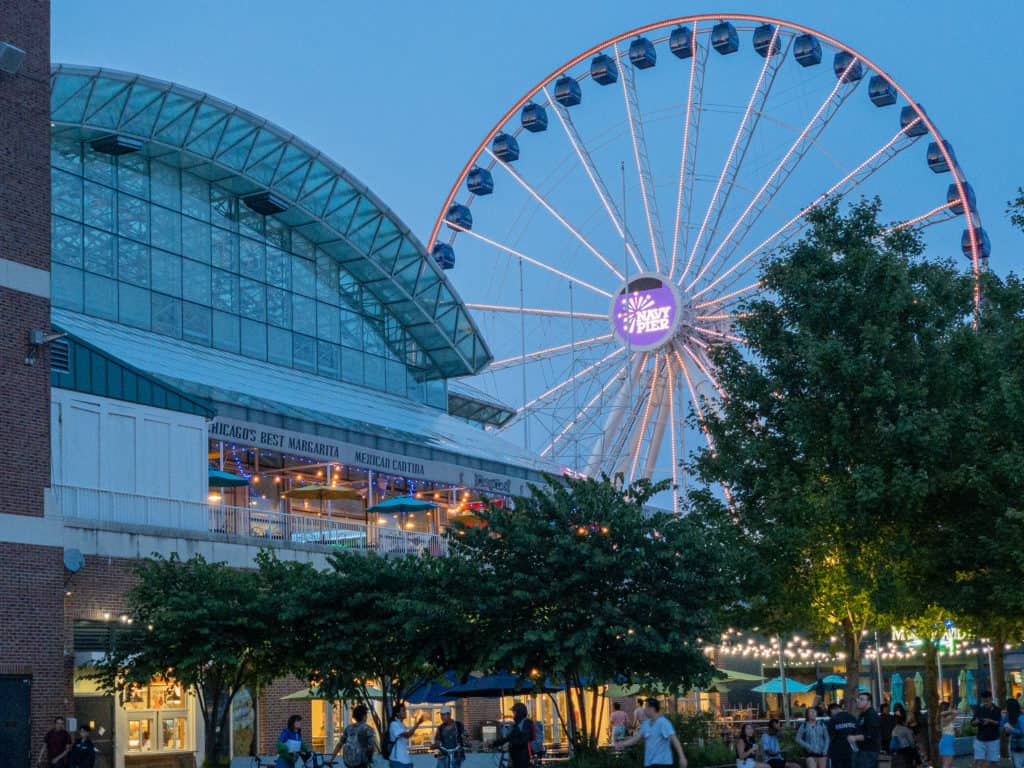 Navy Pier History and Background Information
Navy Pier's fascinating history can trace its roots all the way back to legendary architect Daniel Burnham's 1909 Plan of Chicago. Burnham's original design called for the construction of a series of piers all along Chicago's lakefront that could serve a variety of civic purposes. While the majority of the piers Burnham envisioned were never built, in 1916 "Municipal Pier No. 2" opened. It was 3,040 feet long, and cost some $5 million to build. It was an immediate hit with local residents and visitors alike, consistently hosting a wide range of popular events, festivals, and more. In 1927, Municipal Pier No. 2 was renamed Navy Pier, in honor of the service of World War I Navy veterans.
Since the middle of the 20th Century, Navy Pier has served a number of purposes. During World War II, it was a training facility for over 60,000 military personnel. After World War II, Navy Pier served as a satellite campus for the University of Illinois until 1965. Navy Pier would fall into decline until 1995 when, on the heels of a $150 million renovation, it reopened to much fanfare. Today, Navy Pier is the longest public pier found anywhere in the world, and remains one of Chicago's most beloved and popular attractions.
What's at the Navy Pier
Navy Pier has a tremendous amount to offer visitors, in a whole host of categories. Whether you're looking for a great place to take the kids, desiring a shopping spree, seeking world-class theater, or just a fun night out, you'll find it at Navy Pier. Perhaps the most iconic element of Navy Pier is its Ferris wheel, the Centennial Wheel. Offering stunning views of Chicago's famous skyline, a ride on the Centennial Wheel has become one of contemporary Chicago's can't-miss experiences. There are also many other games and rides you can enjoy at Navy Pier, including a Wave Swinger, carousel, climbing walls, and more.
The Chicago Children's Museum is also located at Navy Pier—and if your group or family is traveling with kids, you won't want to miss it either! This perennial favorite of visitors holds such popular exhibits as Dinosaur Expedition, Kids Town, WaterWays, and more. It's open 10:00am to 5:00pm every day of the week except for Thursdays, when it stays open until 8:00pm.
The Chicago Shakespeare Theater calls Navy Pier home, too. World-renowned for the quality of its various productions, the Chicago Shakespeare Theater facility at Navy Pier contains multiple spaces—one of which even models itself as an indoor replica of Shakespeare's original Globe Theater! But if Shakespeare's not your thing, never fear: the Chicago Shakespeare Theater typically produces nearly 20 shows per season, a significant number of which aren't Shakespearean works at all.
Navy Pier has many different dining options in a variety of styles and cuisines, and at a whole range of price points. Traditional permanent sit-down restaurants on site include Giordano's, Harry Caray's Tavern, Billy Goat Tavern, and more. Faster fare can be found at spots like America's Dog & Burger, Potbelly's, I Dream of Falafel, and more. There's also a bunch of seasonal food vendors and kiosks available in the summer, including the Miller Lite Beer Garden, which is typically open between the months of May and October.
Those visitors interested in shopping are in luck, too, as Navy Pier is the site of dozens of stores and boutiques. You'll find a little bit of everything here, including everything from Chicago-themed souvenirs to national chain brands to vendors specializing in the unique work of local artisans.
Tips for Visiting the Navy Pier
Navy Pier's hours vary significantly throughout the year, so you'll want to check their website for specific, up-to-date details before visiting. However, they always open at 10:00am.
The famous Navy Pier fireworks take place every Wednesday and Saturday evenings between Memorial Day and Labor Day.
No matter your method, getting to Navy Pier is simple and convenient. If you plan on driving, Navy Pier has a massive on-site parking garage with space for some 1,500 cars. The CTA runs a bus straight to the edge of Navy Pier, too. During the nice weather of the summer months, other Navy Pier transportation options during include a free downtown trolley shuttle and a water taxi that ferries visitors between Navy Pier, the Museum Campus, and/or Union Station.
Even though Navy Pier is home to a bunch of great restaurants and bars, keep in mind that it is also home to a lot of open public space that would be the perfect setting for a picnic. If it's a nice day and you're looking to save a few bucks, think about bringing your own lunch to Navy Pier.
No matter what time of day or year you find yourself visiting Navy Pier, there's likely to be some sort of fun programming or notable special event taking place. Make certain to check out their official website in advance of your outing to be aware of all the exciting activities scheduled to be taking place during the time you'll be visiting.