Chicago's waterfront neighborhoods are among the most storied places in the entire city. From the early days of industrialization along the Chicago River and Lake Michigan to the revitalization of the beaches and waterfronts in the modern era, a lot of Chicago's most significant history can be traced to its relationship with these iconic waters. That's why today so many visitors to the city do exactly what the locals do – they flock to the water in the warm weather and enjoy a multitude of cruises, boat rides, kayaking excursions, and river tours.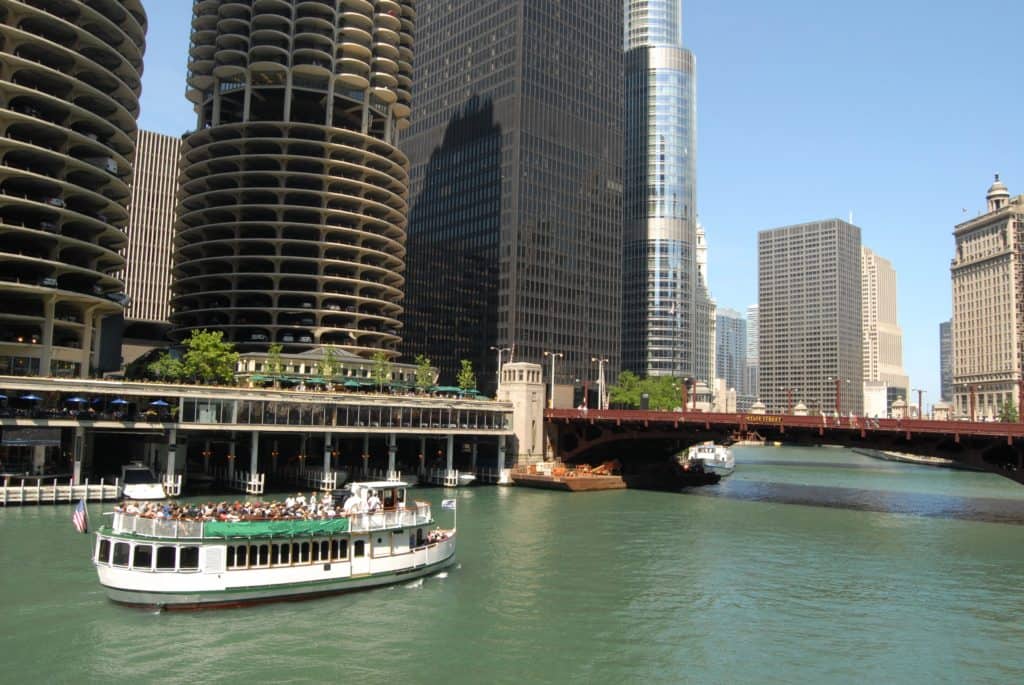 Take advantage of the plethora of water-borne activities in Chicago on your next trip by enjoying a city tour on the water. One of the most popular is the Shoreline Architecture River Cruise, an exciting and informative tour that traverses all three branches of the Chicago River. En route, you'll learn about the city's most important architects and the artistic movements they inspired as expert guides point out key landmarks. This cruise and others like it provide excellent opportunities for photos from unique vantage points – there are few other places you can get such a great shot of the waterfront without some professional help!
Shoreline also offers a few cruises and boat rides on Lake Michigan, including the historic Tall Ship Windy (a longer sail with different themes) and the Classic Lake Tour, which is a 45-minute, serene excursion out onto the lake. The Tall Ship Windy is popular among families, with themed options like a skyline sail with "tales of real pirates from the inland seas." These cruises are also top sightseeing opportunities, and offer unparalleled views of Navy Pier and the broader skyline. The Classic Lake Tour is a similar option that with a shorter sail time and a lower price point. This tour typically does not have a theme.
Then, of course, there are the more off-the-beaten path tours. Wendella is a company that offers rides about Chicago Water Taxis, specialty cruises organized around a theme like BBQ, Wine & Cheese, or Fireworks, and immensely popular Sunset Cruises. For the active travelers, Wateriders offers kayak rentals and themed tours that focus on fun and exciting subjects: enjoy a kayak tour up the Chicago River to scope out the architecture, or something more out of the box like a Ghosts and Gangster-themed kayak excursion. There are other companies offering themed cruises as well, with topics like Chicago History, Jazz & Cocktails, Fireworks, and holiday-time cruises for Christmas, Halloween, or St. Patrick's Day.
As you can see, Chicago has much to offer in the way of cruises for all sorts of travelers. Whether you're venturing to the Windy City with kids in search of a family-friendly option, or are traveling with your partner and hope to find a romantic cruise, you're sure to find the perfect cruise or boat tour for you in Chicago.
Here's a list of the top companies in Chicago that offer boat tours and cruises, and some information about their offerings.
Based out of Navy Pier, Tall Ship Windy operates a variety of scenic cruises on its approximately 150-foot schooner. Popular tours include the Lakeside Architecture Sail and the Skyline Sail, with several other options available.
Has been running scenic tours of Chicago along Lake Michigan and the Chicago River for 80 years. Their most popular tours include a river excursion highlighting Chicago's acclaimed architecture and a lake cruise departing from Navy Pier.