Tall Ship Windy is a traditional topsail schooner that checks in at approximately 148 feet. Tall Ship Windy was constructed in the acclaimed shipyards of Charleston, South Carolina, and first began making runs along Chicago's coastline in 1996. At the time Windy was built, it was the first four-masted schooner constructed anywhere in the United States in nearly 75 years. Today visitors and locals alike continue to delight in the joys that come with sailing on Lake Michigan and experiencing the sights and sounds of Chicago from such an extraordinary vantage point.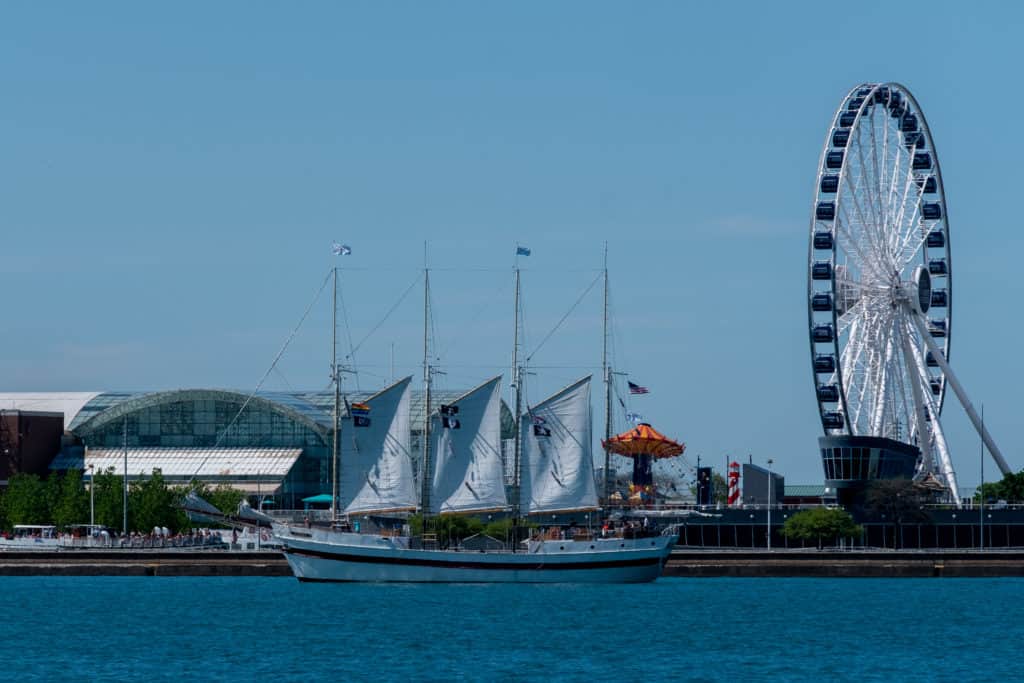 Popular WindyTours
Tall Ship Windy offers multiple different outings for visitors to Chicago who want to enjoy Lake Michigan up close and personal, with each one of its guided tours typically lasting between 60 and 75 minutes. The ship itself combines the best of classic sailing-vessel design with the comfort and safety of a modern boat; it's designed to resemble a schooner of yesteryear, yet it features contemporary amenities like a 300-horsepower diesel engine and internal pressurized plumbing.
Lakeside Architecture Sail: If you've ever wanted to see Chicago's iconic skyline from lovely Lake Michigan, this leisurely cruise is for you. An informative narration will share facts and stories about Chicago's remarkable architectural history—all while you have plenty of time and space for some amazing photographs! The Lakeside Architecture Sail departs daily at your choice of 11:00am or 5:00pm. It runs roughly 75 minutes. Tickets are about $30 for adults, $10 for children.
Skyline Sail: This is another great option for those visitors to Chicago who want to witness Chicago from a unique setting. The Skyline Sail tour lasts around 75 minutes, running $30 or so per adult ticket and about $10 per child. Hours and availability vary extensively throughout the summer months, so check their website for more details.
Skyline Sail with Tales of Real Pirates of the Inland Seas: This special version of the Skyline Sail runs every day of the week at 1:00pm and 3:00pm. It lasts about 75 minutes, with tickets costing approximately $30 for adults and $10 for kids. The highlight of this particular tour is the series of pirate stories and adventures told and performed by the crew's very own band of swashbuckling buccaneers. A perfect afternoon out for small children.
Things to Know & Insider Tips
With the exception of the occasional, rare extreme-weather circumstances, all Tall Ship Windy tours usually set sail regardless of rain or shine. As a result, it's a good idea to dress accordingly, and to arrive prepared for any weather contingencies.
All Tall Ship Windy excursions board on the south side of Navy Pier, at a spot that is slightly to the east of the Chicago Shakespeare Theater.
No matter which tour you select, you should plan on arriving at Tall Ship Windy's Navy Pier dock approximately 30-45 minutes before your scheduled departure time. This is to facilitate the safe boarding of all passengers, as well as to allow sufficient time for the crew to go through a brief safety orientation session with all guests.
A full bar is located on the Tall Ship Windy. There you'll find all manner of drinks, snacks, and even a small gift store—the perfect spot to find that souvenir of your water adventure.
A large, on-site parking garage is located at Navy Pier. There are also a number of CTA buses that service the site. If you're visiting in the summertime, you'll be able to find a free downtown trolley shuttle that'll take you to Navy Pier, too. There's even a water taxi that makes runs between Union Station, the Museum Campus, and Navy Pier.
Is Tall Ship Windy the Tour Company for You?
If you're primarily interested in learning about the fabulous architectural history of the great city of Chicago, there are other boat tours available where you'll hear a more detailed, nuanced narration, and be provided with better, more intimate views of a number of landmarks and buildings. However, if on a beautiful summer day you want to soak in the spectacular skyline of Chicago in all its panoramic glory while experiencing the full force of mighty Lake Michigan, Tall Ship Windy is a terrific option. It's a unique day out you're not likely to soon forget.