Chicago Athletic Association Hotel occupies a historic building in a prime location, making it a desirable lodging option for those visitors to Chicago wishing to treat themselves to a unique, luxurious experience. This relatively new hotel is situated in what once was an elite private club. It stands on Michigan Avenue, directly across the street from Millennium Park, and just steps from the front entrance of the world-famous Art Institute of Chicago. Rooms here come in several formats, and amenities include a 24/7 fitness center, valet parking, 7 distinctive on-site dining experiences, and more.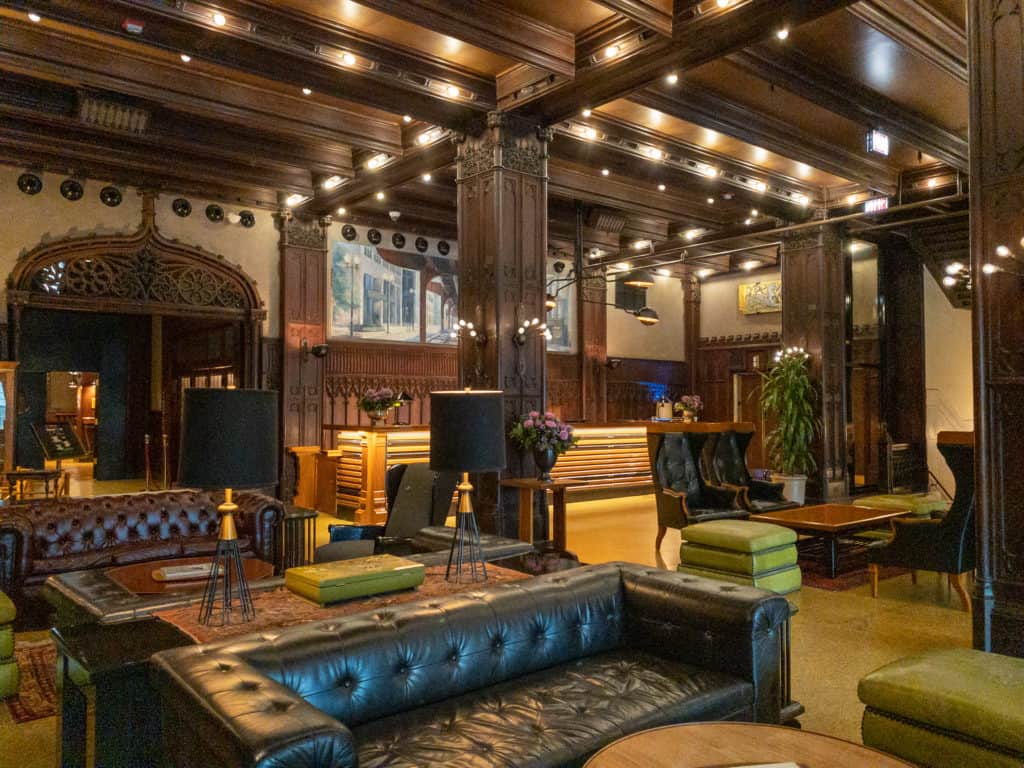 Chicago Athletic Association Ambiance
Chicago Athletic Association Hotel opened in 2015. It occupies an 11-story Venetian Gothic building designed by acclaimed architect Henry Ives Cobb and completed in 1893. From its construction all the way until 2007, it functioned as a private club for wealthy Chicagoans. This rich and exclusive history is preserved in the hotel's modern refurbishment, as the renovators preserved the majority of the structure's bells and whistles. This means the interior space today remains dominated by an assortment of ornate paneling, elaborate molding, and beautiful trims. Intricate details are everywhere here, yet the space still manages to feel fresh and modern.
Chicago Athletic Association Rooms
Guestrooms at Chicago Athletic Association Hotel come in three primary formats: rooms with your choice of 1 king bed, 1 queen bed, or 2 double beds. Guestrooms with 1 king bed are also available with your choice of a view of Millennium Park, a view of Madison Street, or with 50 extra square feet of space. There are also 4 different kinds of luxurious suites available here.
The in-room décor at Chicago Athletic Association Hotel could be described as vintage luxury. Many of the rooms here are furnished with vintage pieces of furniture that evoke the lavish elegance of the early- and mid-20th Century. This takes the form of lots of dark wood desks and end tables, sparsely decorated white walls accented by black trim, and leather furniture. A fair number of rooms here great views of the city through decent-sized windows.
In-room amenities here include complimentary high-speed Wi-Fi service, custom-made SFERRA linens and Fairbault Woolen Mill Company blankets, and a mini-bar stocked with exclusive Chicago-sourced snacks and drinks. You'll also find in each room a flat-screen television and a small work desk and chair.
The standard bathroom at Chicago Athletic Association Hotel is small but nicely appointed. Black-and-white tiles highlight the space (both on the walls and floors), and the sinks are marble with gold faucets. Each guest also has their pick of C.O. Bigelow bath products at their disposal.
Chicago Athletic Association Amenities
Chicago Athletic Association Hotel offers its guests a selection of amenities—though it should be noted that many of these amenities are covered under the hotel's "Founder's Fee" (a $25 per night charge added to each guest's bill). Complimentary high-speed Wi-Fi service is provided throughout the hotel, and a variety of pet-friendly accommodations/services are available to guests upon request. On-site valet parking is an option here. It typically runs around $70 per night, and comes with in-and-out privileges.
On the hotel's 9th floor, guests will also find a fitness center. It is open 24 hours a day, seven days a week, and is stocked with a nice assortment of treadmills, weight machines, free weights, and more. When the weather permits, guests may also check out one of the hotel's complimentary "Heritage Bikes" for up to 2 hours at a time. If you have the time and energy, these charming rides are a fun (and convenient) way to get around town.
Perhaps Chicago Athletic Association Hotel's most notable amenities involve the 7 distinctive dining options found right on-site. The signature restaurant here is Cindy's. Regarded as one of the best rooftop bars in the entire city, Cindy's serves upscale comfort food in a vaulted glass-and-steel space with stunning views of Millennium Park, Lake Michigan, and downtown Chicago. The Cherry Circle Room specializes in farm-to-table cuisine, and is open for breakfast, lunch, and dinner. It occupies a cozy space dominated by a curving dark-wood bar that evokes the bygone swankiness of a mid-twentieth-century cocktail lounge.
The Game Room serves high-end pub food and drink in a space that features a variety of billiards tables available for your enjoyment. The Milk Room is well-known for its 8-seat bar that evokes a speakeasy—it stocks a selection of rare spirits and fine liquors. There's also an in-house Shake Shack found here, as well as Fairgrounds, a coffeeshop devoted to craft-roasted coffees and designer teas. The Drawing Room is the hotel's lobby lounge, and is a great spot for sipping your coffee or enjoying a quick snack while relaxing between outings or waiting for a friend or family member.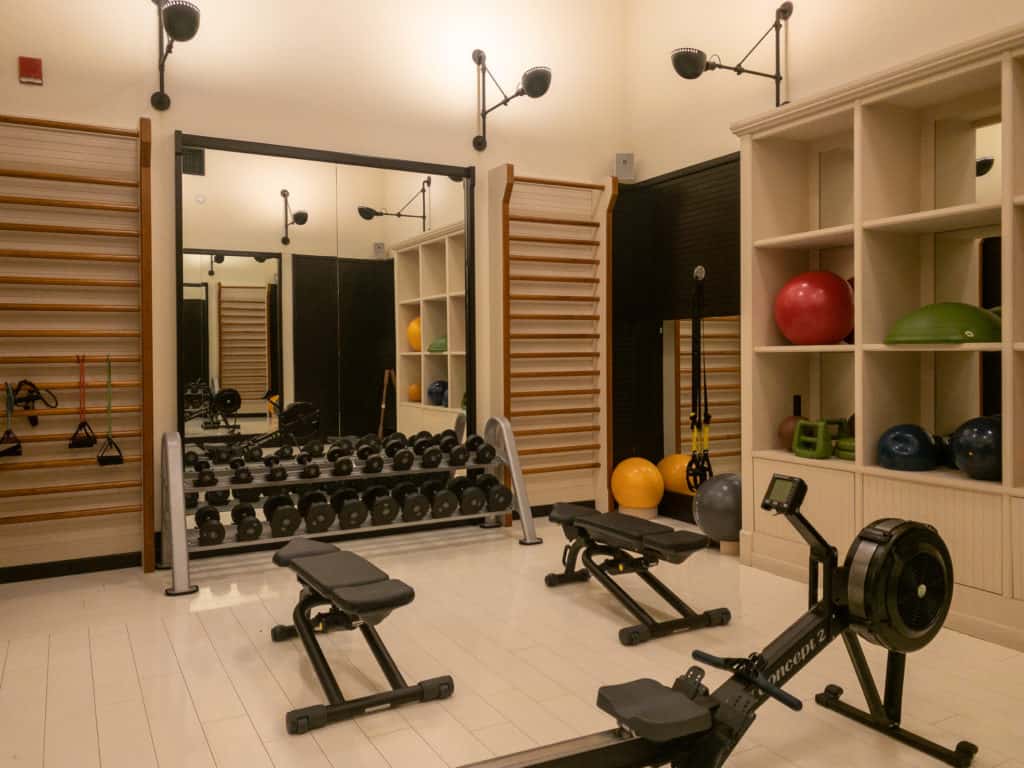 Chicago Athletic Association Neighborhood
Chicago Athletic Association Hotel is located right on Chicago's Magnificent Mile (Michigan Avenue), directly across the street from Millennium Park. This puts iconic Chicago attractions like the Art Institute of Chicago, Cloud Gate (better known as "The Bean"), and Buckingham Fountain only minutes away on foot. Other popular Chicago sites like Skydeck Chicago, Navy Pier, and the Museum Campus are to be found in close proximity, too.
Other suitable accommodations in the general area include Hotel Chicago West Loop, Swissôtel Chicago, Hotel Felix, Majestic Hotel, Club Quarters Hotel Central Loop, Hotel Lincoln, Warwick Allerton, Four Seasons Hotel Chicago, Hilton Garden Inn Chicago Downtown/Magnificent Mile, and many more.