Gray Line Tours was established in 1910, meaning that they now have over a full century of experience offering a wide range of tour services to visitors. They've built a strong reputation during that time as a quality company employing knowledgeable tour guides in cities all across the world; in fact, today they run guided bus tours in approximately 700 places on six different continents! Their Chicago tour offerings run at a couple different price points, and focus on providing visitors access to the many famous attractions found throughout Chicago's downtown, near North Side, and South Shore neighborhoods.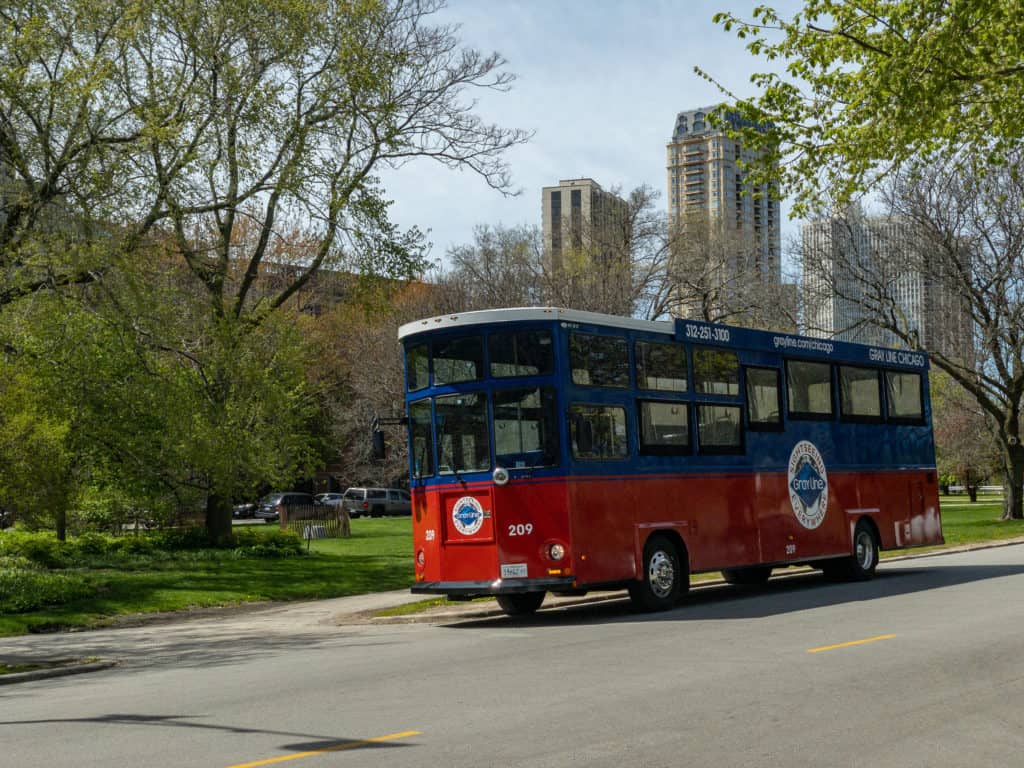 Popular Grayline Tours
Gray Line Chicago typically operates 5 different tours. Available tours include the Chicago Grand City tour, the Chicago North Side tour, the Historic Chicago South Shore tour, and two exciting variations on the Chicago Grand City tour: one which comes with a trip to a legendary Chicago-style pizza restaurant included, and one which includes a visit to the 360 Chicago Observation Deck on the 94th floor of the John Hancock Center. Prices vary depending on which tour you select, but usually tickets range anywhere from approximately $30 to $70 for adults, and $15 to $45 for children between the ages of 5 and 14 years old.
Chicago Grand City: This is Gray Line Chicago's most extensive single tour outing. It lasts around 4 hours, and takes you to such famous Chicago attractions as Lincoln Park, Grant Park, and Washington Park. Along the way you'll get great views of Chicago's skyline and Lake Michigan from scenic Lake Short Drive, as well as make stops at the Museum Campus and Lincoln Park Observatory. The Chicago Grand City tour costs approximately $50 per ticket for adults, and about $30 per ticket for all children between the ages of 5 and 14 years old.
Chicago North Side: This 2-hour-long tour hits all the highlights of downtown Chicago and its near North Side. Throughout this popular excursion you'll explore prominent Chicago neighborhoods like The Loop, Lincoln Park, Wrigleyville, and River North. You'll also ride by Chicago landmarks such as Daley Plaza, Wrigley Building, John Hancock Center, Water Tower Place, Newberry Library, and the Lincoln Park Observatory. Tickets run about $35 for adults, and just under $20 for children between the ages of 5 and 14 years old.
Historic Chicago South Shore: Another popular 2-hour-long tour, the Historic Chicago South Shore tour takes you alongside some of the city's most famous cultural attractions. Along the way you'll get great views of famous sites like the Art Institute, Grant Park, the Museum Campus, and Soldier Field—as well as Jackson Park, the Museum of Science and Industry, and the lovely Hyde Park neighborhood. Tickets are approximately near $35 for adults, and a little under $20 for children between the ages of 5 and 14 years old.
Things to Know & Insider Tips
Your Gray Line Chicago tour ticket does not include any type of gratuity for your driver/guide. If you have a positive experience during your tour, it is considered polite to leave a tip of approximately 20%.
If you're part of a group or family traveling with small children, one perk of the Gray Line Chicago tour experience is that you don't need to purchase tickets for kids under the age of 5 years old.
Gray Line Chicago tours tend to fill-up in a hurry—especially during the summer months—so if you know what tour you're interested in, and when, it's always a good idea to purchase your tickets in advance of your trip.
Free cancellation is available for all Gray Line Chicago tours. If you've purchased your tickets in advance, and something comes up during your trip which makes it impossible for you to go on your scheduled tour, you can receive a full refund from Gray Line so long as you cancel your reservations at least 24 hours before your departure time.
Is Grayline the Tour Company for You?
When it comes to guided tours, Gray Line Chicago is a big brand name that has been operating tours in Chicago for around 50 years. As a result, if you select one of their tours, you can be pretty confident that you're going to enjoy a reliable, well-organized outing in a fabulous city. Gray Line Chicago tours are designed to help you see as many of the city's numerous landmarks as efficiently as possible. That means, if you're interested in exploring any of these famous sites more in-depth, you might want to consider other options or seek them out on your own time. However, for a basic overview of a bunch of Chicago's most popular attractions, Gray Line Chicago tours are a solid bet.