Gray Line Chicago's Chicago North Side tour is a guided bus tour of Chicago's downtown and Near North Side. Lasting a couple hours, this tour takes you to a significant number of must-see Chicago destinations, making it an appealing tour option for first-time visitors to the city. Along the way you'll encounter such attractions as The Loop, Michigan Avenue, John Hancock Center, Lincoln Park, and much, much more. Throughout the entire trip, your friendly guide will provide an informative and entertaining narration that'll give you a bit of background and history regarding the city of Chicago and its many wonders.
Money Saving Tip! This tour is included in the Go Chicago Card as well as the Chicago Explorer Pass. Both Chicago Tourist Passes can save you a lot of money if you are going to multiple Chicago attractions.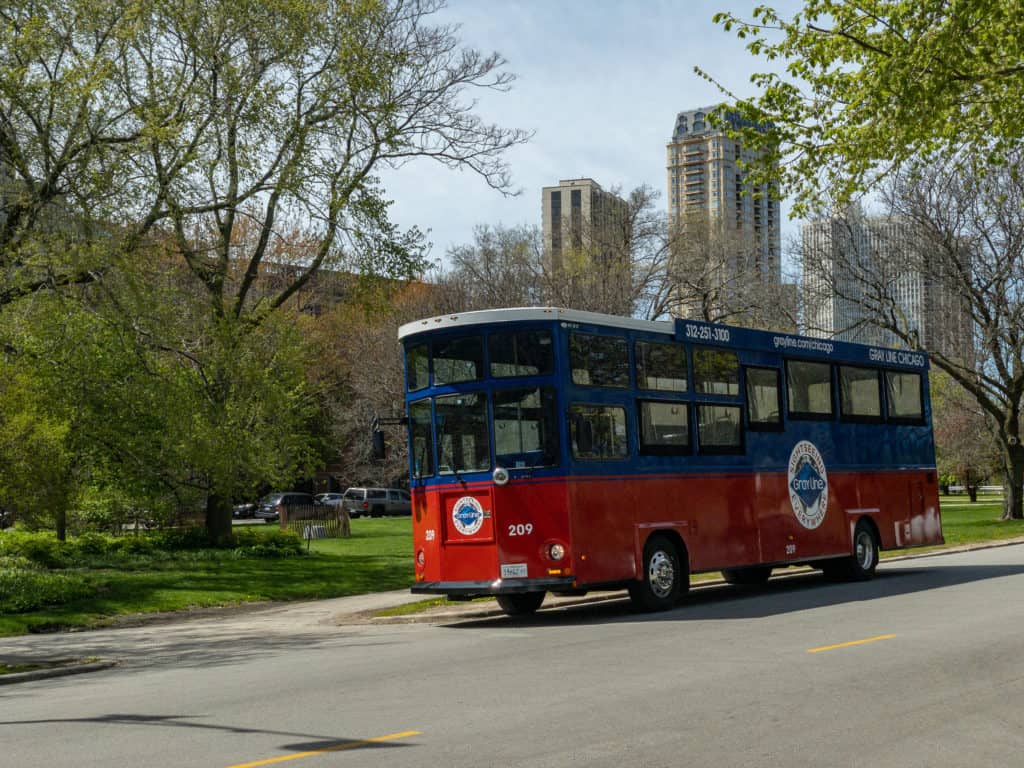 Chicago North Side Bus Tour Details
The Chicago North Side bus tour gets you up close and personal with many of the major landmarks found in Chicago's downtown and Near North Side neighborhoods. The Grayline bus tour usually starts out by taking you down State Street and through Chicago's one-of-a-kind Loop neighborhood, before swinging by Daley Plaza, where you'll find an impressive abstract sculpture by the great Pablo Picasso; originally hated upon its first unveiling in 1967, it's now become a much-recognized symbol of the city. From there you'll ride along chic Michigan Avenue, passing such highlights as the Chicago River and John Hancock Center. The tour then heads even farther north, providing you the opportunity to see additional attractions like the Newberry Library, Wrigley Field, and Lincoln Park. The Chicago North Side tour lasts approximately two hours. You'll want to check their website in advance of your visit for more details, but typically the Chicago North Side tour is offered twice a day, at 9:30am and 1:30pm. Tickets cost about $35 for adults, and just under $20 for children between the ages of 5 and 14 years old.
Chicago North Side Major Highlights
Michigan Avenue: Known to many as "The Magnificent Mile," Chicago's fabulous Michigan Avenue is one of the preeminent stretches of shopping and dining found anywhere in the world. As you ride along this glamorous strip, you'll be able to see notable buildings such as Tribune Tower and the Wrigley Building, as well as numerous famous stores and restaurants.
John Hancock Center: Located just north of the ever-popular Water Tower Place, the John Hancock Center is a true Chicago landmark. At nearly 1,200 feet in height (1,500 feet if you include the iconic spires), it's one of the tallest buildings in the world, and quite beloved for its 94th-floor observatory, 360 CHICAGO.
Newberry Library: This independent research library has been free and open to the public since its opening in 1887. Situated right on beautiful Washington Square, in a magnificent historic building, the Newberry Library houses millions of books and manuscripts across a wide spectrum of subjects and specialties.
Wrigley Field: Home to Major League Baseball's Chicago Cubs since 1916, Wrigley Field is one of the most famous sporting venues in the world. This charming ballpark is nestled in the midst of the vibrant Wrigleyville neighborhood, and you'll definitely want to snap a photograph of its famous marquee as you drive by.
Is the Grayline Chicago North Side Bus Tour for You?
If you find yourself on a tight schedule during your time in Chicago, but yet you still want to see a number of the city's most famous spots while experiencing a bit of its local flavor, then Gray Line Chicago's Chicago North Side tour is likely a good choice for you. It gets you to a number of the Windy City's most famous places in a very short amount of time, which makes it a great option for those visitors trying to pack a lot into a brief trip. If you have more time—or know specifically what parts of town you want to explore the most—then there are other, more comprehensive tours out there, at relatively comparable prices. However, anyway you cut it, the Chicago North Side tour makes for a pleasant two hours out and about in one of the world's loveliest cities.