Located on the 94th floor of Chicago's famed John Hancock Building, the 360 CHICAGO Observation Deck offers you the opportunity to see the Windy City like you've never seen it before. 360 Chicago consists of a ground-floor museum exhibit stocked with intriguing artifacts and informative displays about Chicago, a 17,000-square-foot observation deck providing awe-inspiring views of every inch of this beautiful city, and a distinctive bar/café space where you can gather and unwind some 1,000 feet in the air.
This attraction is included on several money saving tourist passes.
The 360 Chicago Observation Deck is included on the Chicago CityPASS, Go Chicago Pass and Explorer Pass. Buy the CityPASS if you just want to got a few of the most popular attractions. Choose either Go City Card if you are seeing many sites and a tour or two. Save an additional 10% on the Go City Card with Coupon Code: CMGOCITY10 The discount stacks on top the current sale prices! Promo expires on September 30th.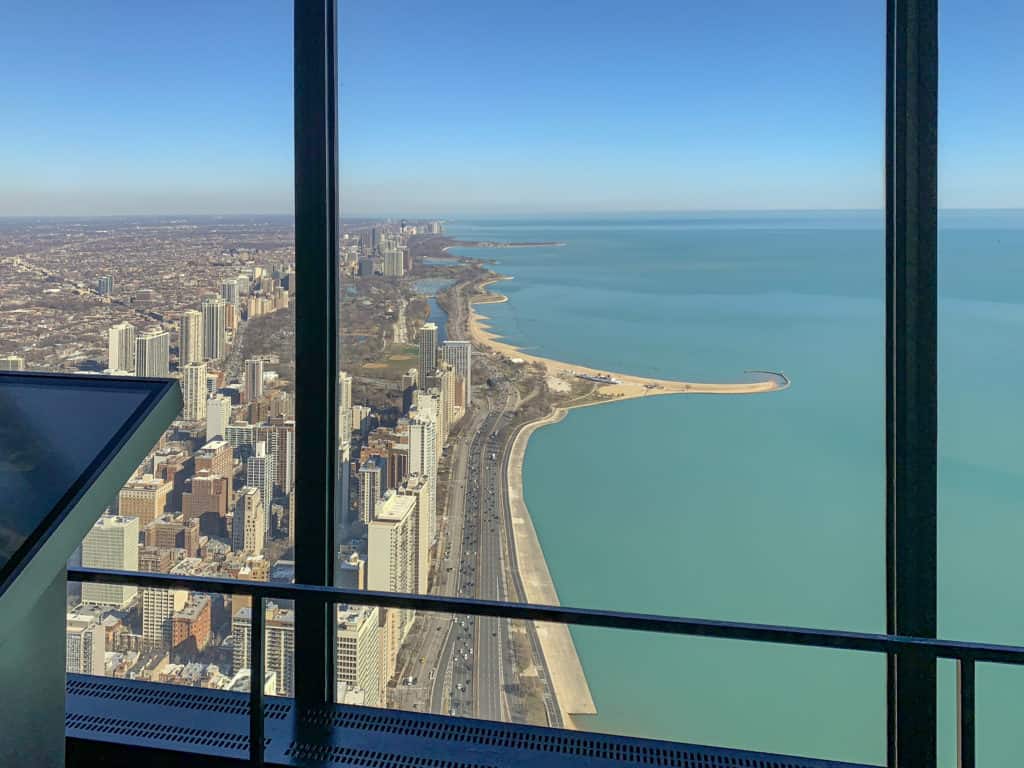 360 CHICAGO History and Background Information
360 CHICAGO is located in one of Chicago's most famous structures, the iconic John Hancock Building. The building was completed in 1969, at which point in time it was the second-tallest building in the world. Today it is still the fourth-tallest building in Chicago, and one of the ten-tallest buildings in the entire United States. When you include the Hancock Building's two antennas in your measurements, the entire structure stands approximately 1,500 feet tall. Situated on a prime corner of Michigan Avenue, at the heart of Chicago's beloved Magnificent Mile, the John Hancock Building and 360 Chicago remain among the city's most popular attractions. In addition to its 94th floor observation deck and café/bar, 360 CHICAGO also hosts a regular series of events onsite; these events include yoga sessions, trivia nights, happy-hour specials, and more.
What's at the 360 CHICAGO Observation Deck
No matter if you're visiting for the first time or you've lived in the area your whole life, 360 CHICAGO is a wonderful way to see the great city of Chicago in a whole new light. With huge windows providing outstanding views of the city in every direction, you'll see Lake Michigan, Chicago's downtown, its vibrant surrounding neighborhoods, and much more like never before.
For many visitors, one of the most exciting elements of 360 CHICAGO is TILT. TILT is a one-of-a-kind experience. Combining the sightseeing joy of an observation deck with the breathtaking thrills of a amusement-park ride, TILT lets visitors step out over the edge of John Hancock Building via a bank of windows that actually moves out and downward. It's a new, adrenaline-packed way of seeing The Magnificent Mile and Chicago's spectacular skyline!
Even as most visitors are drawn to 360 CHICAGO for the stunning views, your admission to this attraction does include access to a fascinating Chicago Multimedia Exhibit. Situated on the ground floor of John Hancock Building, before you take the elevator to the Observation Deck, this interactive museum-style gallery provides you with additional information about the rich history and culture of Chicago.
360 CHICAGO Observation Deck is also home to a unique eating and dining experience, Bar 94. Bar 94 proudly bills itself as the highest bar in all of Chicago. Bar 94 specializes in small bites and local craft beers and spirits, but let's not kid ourselves—the real draw here is once again the remarkable 360-degree views of Chicago available from its cozy seating section.
Tips for Visiting 360 CHICAGO Observation Deck
A great way to save money is to buy a Tourist Pass. Go Chicago Card, a Chicago CityPASS or a Chicago Explorer Pass. All of them give you expedited entry bypassing the ticket line. In addition, CityPASS also lets you stand in a shorted line for the obligatory pre-entry photograph saving you a little more time when it's busy. All the passes also save you a dollar if you you decide to try TILT.
360 CHICAGO Observation Deck is open every day between the hours of 9:00am and 11:00pm. However, please do keep in mind as you plan your visit that the last actual entry time here is at 10:30pm.
Children under the age of 3 years old may enter the 360 CHICAGO Observation Deck free of charge.
360 CHICAGO Observation Deck does occasionally close to the public early in order to host private events. To be 100% sure that the attraction will be open during your desired time slot, check their website for more details before visiting.
Likewise, if you are especially interested in experiencing TILT during your visit to 360 CHICAGO Observation Deck, make certain to check their website in advance, as TILT closes on days when the weather is bad and/or it is too windy.
Given its popularity as an attraction, 360 CHICAGO Observation Deck can get pretty busy at times. As a result, if you're looking to experience the least-crowded views, it is recommended that you try and visiting 360 CHICAGO either in the morning (before 11:00am) or evening (after 6:00pm).