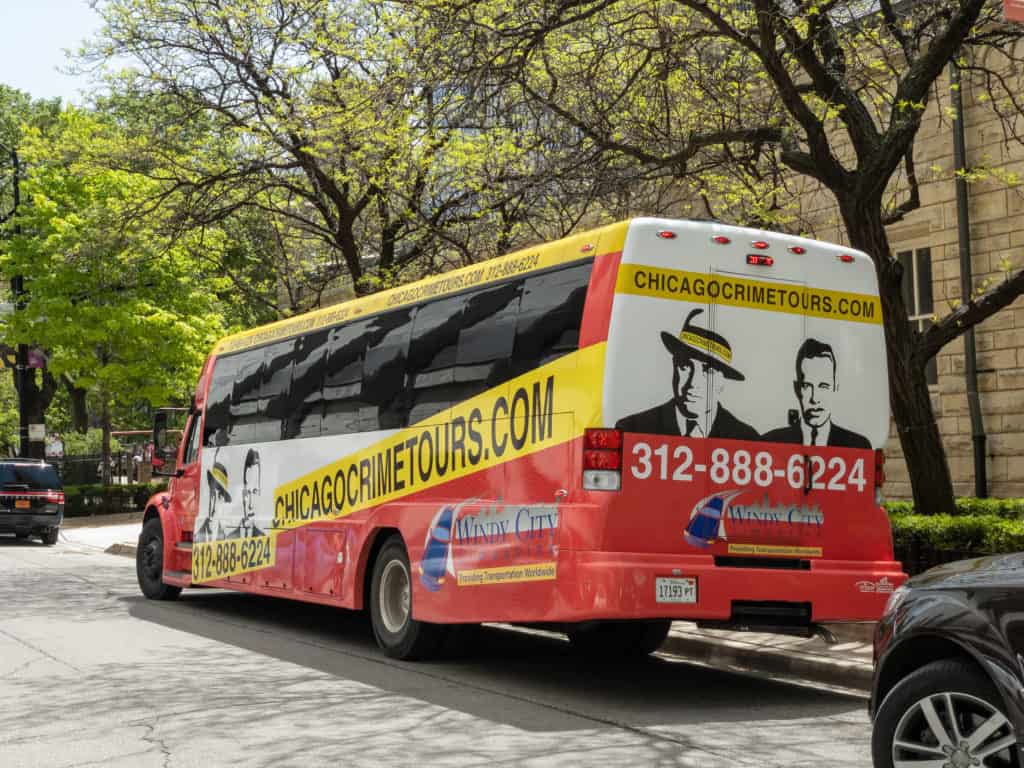 Popular Crime Tours
Chicago Crime Tours has an excellent reputation as a company devoted to giving its guests highly enjoyable tour experiences, as its 3 tours are regularly well-reviewed affairs. The Chicago Crime and Mob tour is the most popular excursion offered by Chicago Crime Tours. During the week, it routinely runs 3 times a day, at 10:00am, 12:00pm, and 2:00pm. On weekends, 2 additional tour slots are frequently available: 4:00pm and 6:00pm. This tour not only features a comfortable bus ride through town during which you'll listen to your fun and knowledgeable guide provide an entertaining yet informative narrative, but it makes multiple stops where you can get off the bus and explore a series of historic crime scenes firsthand.
The flagship tour available from Chicago Crime Tours, the Chicago Crime and Mob tour is a can't-miss event for visitors to Chicago interested in learning more about the city's criminal history. Tickets run around $40 per person, with the tour usually lasting between 1.5 and 2 hours.
Night Crimes Tour
At around 2 to 2.5 hours, the Night Crimes tour is a slightly expanded, evening version of the Chicago Crime and Mob tour. The tour is offered every Monday, Wednesday, Thursday, and Friday at 8:00pm, with tickets costing approximately $45 per person.
A walking tour that is available seasonally, the Crime and Pizza tour typically lasts between 1.5 and 2 hours and costs roughly $50. All Crime and Pizza Walk tours start outside the Pizzeria Uno location at 29 East Ohio Street. There you meet your guide and set off on a pleasant stroll that combines Chicago-style pizza slices with stories of the mobsters and gangsters that once frequented Chicago's River North and Gold Coast neighborhoods. Advance reservations are required for this tour.
Things to Know & Insider Tips
Any tour ticket you purchase from Chicago Crime Tours does not include any sort of gratuity. It is considered polite, if you enjoy your tour experience, to tip your guide around 20%.
Depending on availability, it is sometimes possible to purchase Crime and Mob or Night Crimes tour tickets from your guide at the time of departure. However, Chicago Crime Tours strongly recommends making advance reservations, to ensure you are able to book your tour for the time that best suits your schedule.
The Chicago Crime and Night Crimes tours both depart from the southeast corner of Pearson Street and Michigan Avenue—this is the curb right by the historic Chicago Avenue Pumping Station, directly across the street from Water Tower Place. Parking in this area is quite expensive, so if you can reach this location by walking or taking public transportation, consider doing so.
In order to facilitate a speedy and orderly check-in process, Chicago Crime Tours asks that you arrive 10 minutes before your scheduled departure time.
Is Chicago Crime Tours the Company for You?
Chicago is famous in many circles for the significant number of high-profile criminals, gangsters, and mobsters who have either called the city home, or once used it as a base for their illegal operations. If you're intrigued by learning more about this dark side of Chicago's rich history, then this tour is perfect for you. Keep in mind, of course, that this tour is highly specific. As a result, if you want to explore a wider range of themes and topics during your time in Chicago—as well as experience a greater number of different landmarks and Chicago attractions across this great city—you'll need to seek out other tour options. However, most visitors to Chicago who decide to take any one of Chicago Crime Tours outings report back that they have a fun, exciting, and unique time.

John Dillinger. Al Capone. Captain George Streeter. The Untouchables. The St. Valentine's Day Massacre. All these names and events bring to mind images of some of American history's most feared, notorious, and wanted criminals—and all of these names and events have strong links to the city of Chicago. Chicago Crime Tours is a tour company that focuses solely on leading guided tours of the places and neighborhoods once haunted by such infamous characters. Across 3 distinct tours, Chicago Crime Tours will take you to historic Chicago crime scenes like Biograph Theatre and Holy Name Cathedral, as well as throughout neighborhoods like River North, Gold Coast, Lincoln Park, and Old Town.