The Warwick Allerton is a 25-story hotel building located at the bustling corner of Michigan Avenue (the one and only Magnificent Mile) and Huron Street. The Warwick Allerton is one of Chicago's oldest and most famous hotels. It first opened its doors in 1924, gaining acclaim throughout the middle part of the twentieth century as a glamorous establishment regularly visited by numerous notable celebrities. It was declared a Chicago Landmark in 1998, and has been recently renovated. Guests of the Warwick Allerton will find themselves squarely in the heart of much of what makes Chicago a world-class destination, with many of the city's most famous attractions just a short distance away.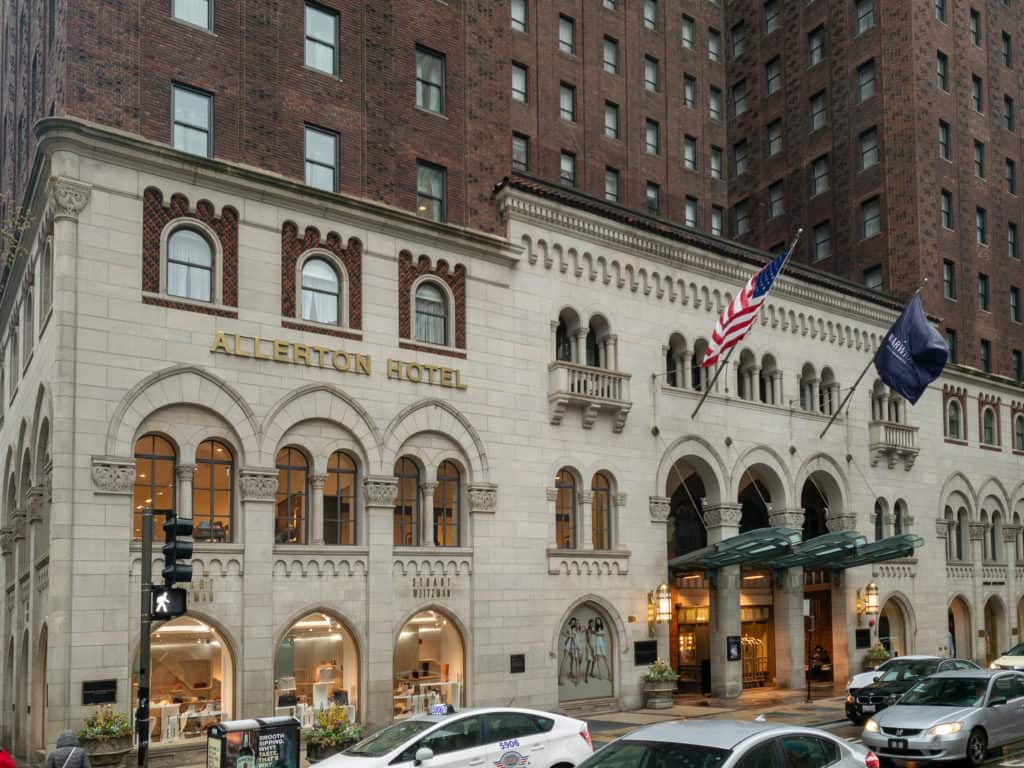 Warwick Allerton Ambiance
The Warwick Allerton first opened for business in the 1920s, and its Jazz Age roots are reflected in the enduring stylishness of its public spaces. The exterior of the building has an iconic look to it. The pronounced setbacks that define its front create a distinctive tower-effect, and Chicagoans of multiple generations will fondly recognize its landmark top-floor, red-neon sign that proudly announces to the world "ALLERTON HOTEL: TIP-TOP-TAP." The lobby is a grand area, where crisp white walls pop with gold accents. The black-and-silver checked tile floors help to make the plush red couches jump out in the best possible way. The vibe here is at once refined yet comfortable, historic yet contemporary.
Warwick Allerton Rooms
Individual rooms at Warwick Allerton are available in 8 different formats, 2 of which are accessible. Take your pick of a King room or an Executive King room, a 2-Queen-Bed room or an Executive 2-Queen-Bed room, a Standard room or Petite Classic room. These options range in size from the Petite Classic's cozy 175 square feet to the Executive 2-Queen-Bed room's more spacious 400 square feet.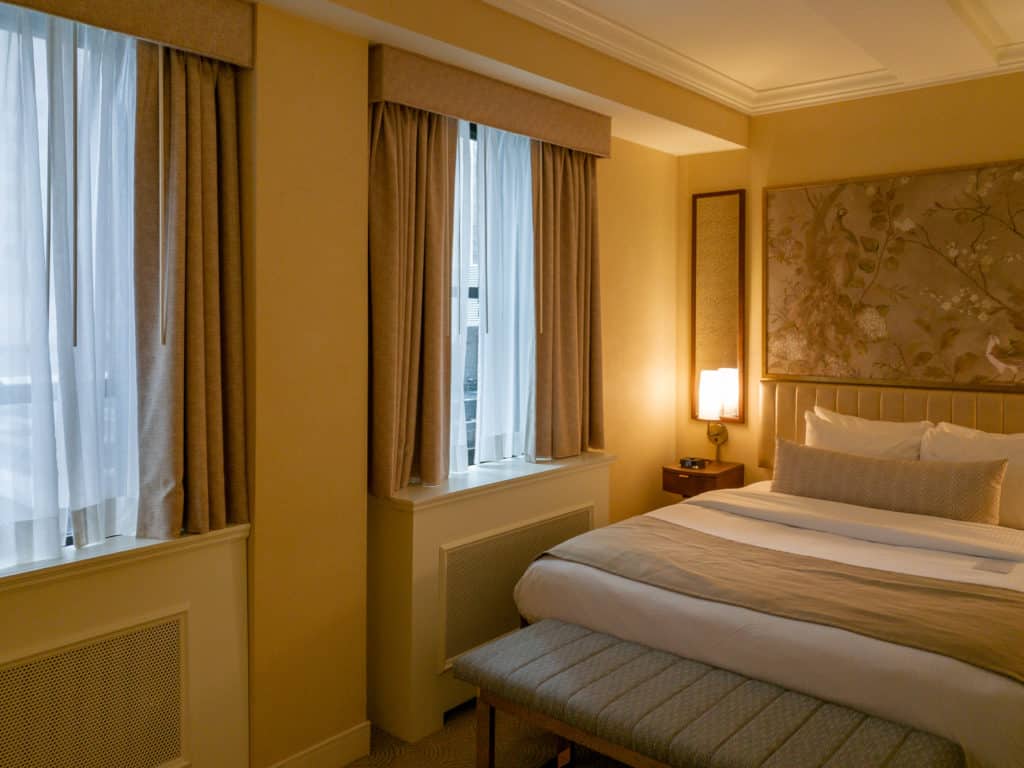 Because of the hotel's age and history, each room comes with its own unique charm, and layouts often vary from unit to unit. However, typically the décor tends toward the elegant and refined. The color schemes are heavy on lavish gold, soft yellows, and clean whites. Large windows let in copious amounts of light, and most rooms have spectacular views of downtown Chicago.
In-room amenities are modern and useful. Each room is 100% smoke-free, and comes stocked with a flat-screen television, in-room coffeemaker, desk, chair, and 325-thread-count sheets. Standard bathrooms here are quite nice. They feature marble surfaces, a cutting-edge rain-style showerhead, a professional-grade hairdryer, a cosmetics mirror, iron with ironing board, and even complimentary Gilchrist & Soames bath products.
Three different kinds of suites are available at Warwick Allerton, too. These options include Premium suites, Superior suites, and Specialty suites. They range from roughly 430 square feet to nearly 700 square feet in size. These units come with a more spacious layout, Keurig machine, living area, and more.
Warwick Allerton Amenities
Warwick Allerton houses its own well-regarded restaurant, M Avenue Restaurant and Lounge. They serve breakfast each day from 6:30am until 11:00am, lunch between 11:00am and 2:00pm, and dinner starting at 4:30pm to 11:00pm. From morning to night, no matter what you're looking for, you'll probably find it on M Avenue's extensive menu that offers everything from a breakfast buffet to burgers, pasta, and more.
The Lounge portion of the establishment is open from 4:30pm to 12:00am. Happy hour specials are available Sundays through Thursdays between the hours of 5:00pm and 7:00pm, and routinely involve deals on draft beers and select glasses of wine and cocktails. Small plates and appetizers are available, and the location is the modern version of the legendary Tip Top Tap nightclub—the famed establishment once frequented by the likes of Frank Sinatra, Bing Crosby, and Bob Hope.
A variety of additional amenities are available at Warwick Allerton. Upon request, pet-friendly rooms and services are located on-site. You'll also find here a 24-hour business center featuring multiple computers, a copier, fax machine, and printer, as well as a fitness center open to guests at any time of day or night. Some room packages come with complimentary Wi-Fi for the duration of your stay, and valet parking is available for $60 per night.
The Warwick Allerton is also home to a significant amount of meeting space that is available for rental, so if you or yours plan to be in the Windy City for a special event or occasion, this classic hotel is one-size-fits-all option for both lodging and celebrating.
Warwick Allerton Neighborhood
The Warwick Allerton occupies one of the most prestigious addresses in the city of Chicago. Located right on Michigan Avenue, you'll find all manner of shopping and dining destinations, as well as many of the city's most popular tourist attractions, just a short distance away. Particular highlights within just three blocks of the Warwick Allerton include Water Tower Place, John Hancock Building, and the Museum of Contemporary Art. Not much farther away you'll find additional classic Chicago sites like Navy Pier, Millennium Park, the Art Institute of Chicago, and the Museum Campus.
Other nearby accommodations in the general area of the Warwick Allerton include Hotel Lincoln, Majestic Hotel, Hilton Garden Inn Chicago Downtown/Magnificent Mile, Four Seasons Hotel Chicago, Hotel Chicago West Loop, Chicago Athletic Association Hotel, Swissôtel Chicago, Hotel Felix, Club Quarters Hotel Central Loop, and many, many more.