Long considered one of Chicago's finest hotels, Four Seasons Hotel Chicago offers guests the opportunity to stay in luxurious accommodations as they explore all that The Windy City has to offer. Located right on Michigan Avenue, these fabulously appointed accommodations are situated near many of the city's finest restaurants and high-end shopping destinations. The majority of Chicago's most iconic landmarks and attractions are easily accessible from here, too. Among the many amenities available to guests of the Four Seasons Hotel Chicago are such perks as a fitness center, business center, pool, on-site restaurant, on-site spa, and much more.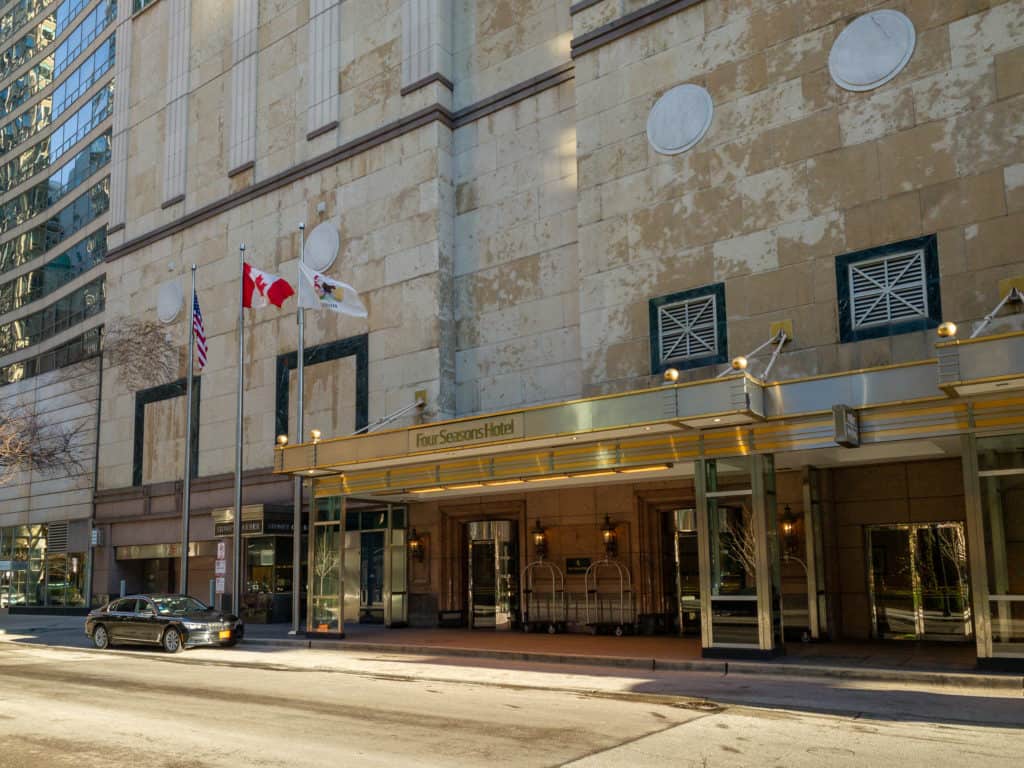 Four Seasons Hotel Ambiance
Though its official street address is 120 East Delaware Place, the Four Seasons Hotel Chicago is part of the nearly 900-foot-tall 900 North Michigan Avenue skyscraper. Thus, one of the most immediately remarkable things about this impressive hotel facility is that it occupies floors 30 through 46 of the 900 N. Michigan building. This unique setup is a memorable experience in and of itself. The hotel's location at this particular height means that everything here has been designed to take advantage of the spectacular views to be had in all directions. Its lobby features a host of overstuffed leather couches and stylish armchairs, while the walls are decorated with an assortment of abstract expressionist art. The whole vibe here exudes high-end comfort.
Four Seasons Hotel Rooms
There are a great many different types of rooms—as well as over half-a-dozen distinctive suites—available at the Four Seasons Hotel Chicago. Individual guestrooms come with your choice of lake or city view. Lake-view rooms come with either 1 king bed or 2 double beds and check-in at approximately 400 square feet, while city view rooms have 1 king bed and are about 375 square feet in size.
The in-room décor for both these types of guestrooms is understated yet elegant. Lots of white, beige, and tan, complimented by dark-wood furniture and the occasional pop of color offered by a purple sitting chair. Large windows steal the show, though, offering glimpses of the beautiful surroundings from the hotel's great height.
Typical amenities at the Four Seasons Hotel Chicago include complimentary in-room Wi-Fi service, a 42-inch, high-definition, flat-screen television, a refrigerator, and a Nespresso machine. Housekeeping service is offered here two times a day, and you can even request an in-room DVD player as well as an in-room printer/scanner/fax machine—if you really need to get some work done in private.
Standard bathrooms here are spacious, marble, and well-lit. Plenty of towels are provided, and the shower-and-tub combos feature cutting-edge faucet systems. Each bathroom also comes with a pair of plush terry bathrobes, a special make-up mirror that lights up, and Natura Bissé bath products.
Four Seasons Hotel Amenities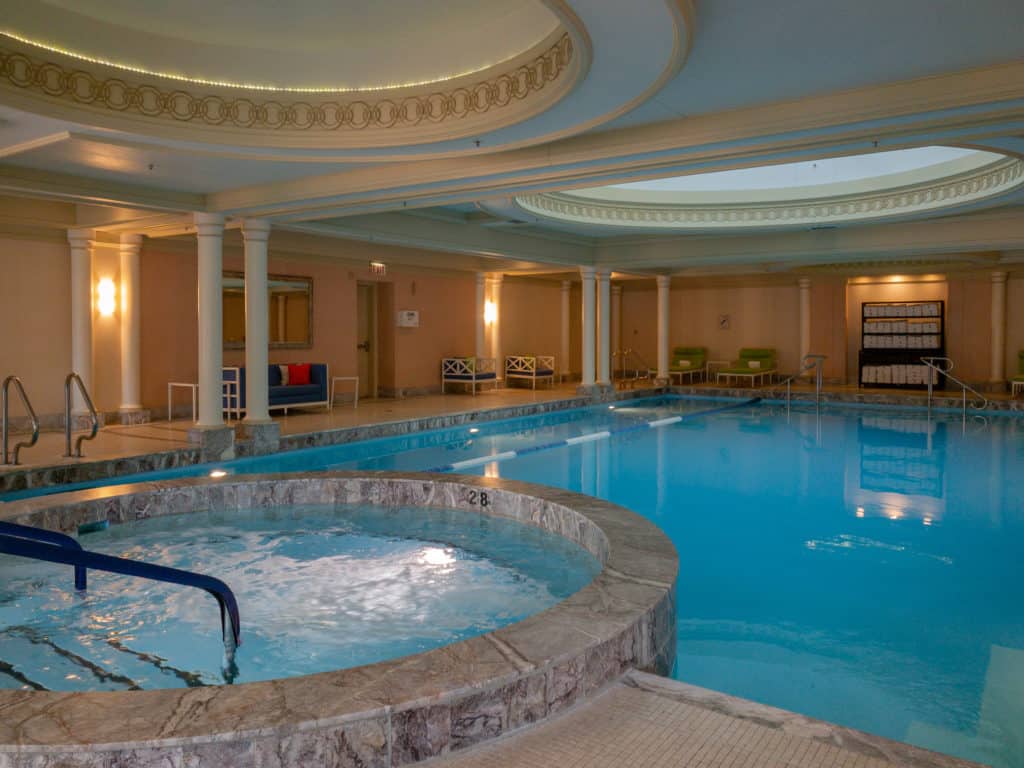 As one might expect befitting a hotel of its stature, the Four Seasons Hotel Chicago provides guests with their choice of a wide selection of amenities. A fitness center, stocked with treadmills, ellipticals, weight machines, exercise bikes, and more, is open 24 hours a day—as is the hotel's business center. There's even a 50-foot pool here, set under a spectacular domed ceiling and flanked by Roman columns.
Four Seasons Hotel Chicago is home to Allium, a fine-dining establishment regarded as one of the better restaurants in the area. It serves up creative takes on long-time favorite foods, with signature dishes like pan-roasted Alaskan halibut, Colorado lamb, and steak-and-eggs. It is open 7 days a week for breakfast (6:30am to 11:00am), lunch (11:00am to 3:00pm), and dinner (5:00pm to 10:30pm). A special brunch is served Sundays between 11:00am and 2:30pm, and the bar is open late every night.
Four Seasons Hotel Chicago also houses its own spa and wellness center. This facility provides guests with a wide range of relaxation services, including classic treatments like facials, massages, and manicures. Special packages and/or group rates are available, too. The spa here is open every day of the week between the hours of 6:00am and 10:00pm.
Other amenities available at the Four Seasons Hotel Chicago include 24-hour in-room dining service, a gift shop, and an indoor playground area for kids. Many intimate weddings and corporate meetings are hosted in the hotel's lavish event space, while multiple forms of transportation may be arranged at the front desk, and babysitting services can be procured here, too.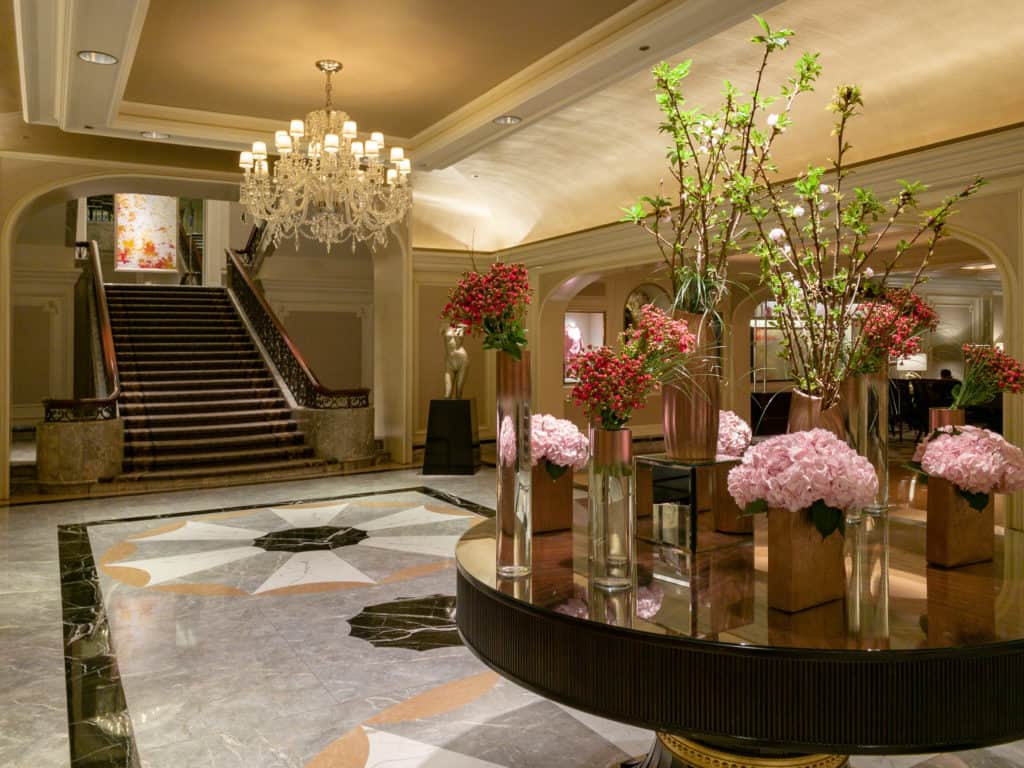 Four Seasons Hotel Neighborhood
The Four Seasons Hotel Chicago is located at the corner of E. Delaware Place and Michigan Avenue. It shares its location—900 North Michigan, the 31st tallest building in the entire United States—with an upscale shopping center that is home to a number of luxury brands and restaurants. The iconic John Hancock Building (with its 360 Chicago Observation Deck) is just across the street, as is Water Tower Place. The area right around the hotel is home to many different high-end shops and fine dining establishments, and most of Chicago's most famous attractions are readily accessible from here. These would include popular sites such as the Museum of Contemporary Art, the Art Institute of Chicago, Millennium Park, Navy Pier, the Museum Campus, and so much more.
Other suitable accommodations found nearby include Swissôtel Chicago, Hotel Lincoln, Warwick Allerton, Hotel Chicago West Loop, Club Quarters Hotel Central Loop, Hotel Felix, Majestic Hotel, Hilton Garden Inn Chicago Downtown/Magnificent Mile, Chicago Athletic Association Hotel, just to name a few.