The Hilton Garden Inn Chicago Downtown/Magnificent Mile occupies an outstanding location in one of Chicago's prime areas. Situated on East Grand Avenue, just two blocks west of the upscale shopping and dining of the world-famous Magnificent Mile (Michigan Avenue), this River North hotel is right in the midst of everything Chicago has to offer. There are literally hundreds of restaurants and shops to be explored within just a half-dozen blocks of this hotel. Likewise, many of Chicago's most beloved attractions are to be found just a short distance from here. The Hilton Garden Inn Chicago Downtown/Magnificent Mile has on-site parking, and/or there are many different public transportation options accessible right outside its front doors. Other amenities available here include a fitness center, business center, indoor pool, and on-site restaurant, just to name a few.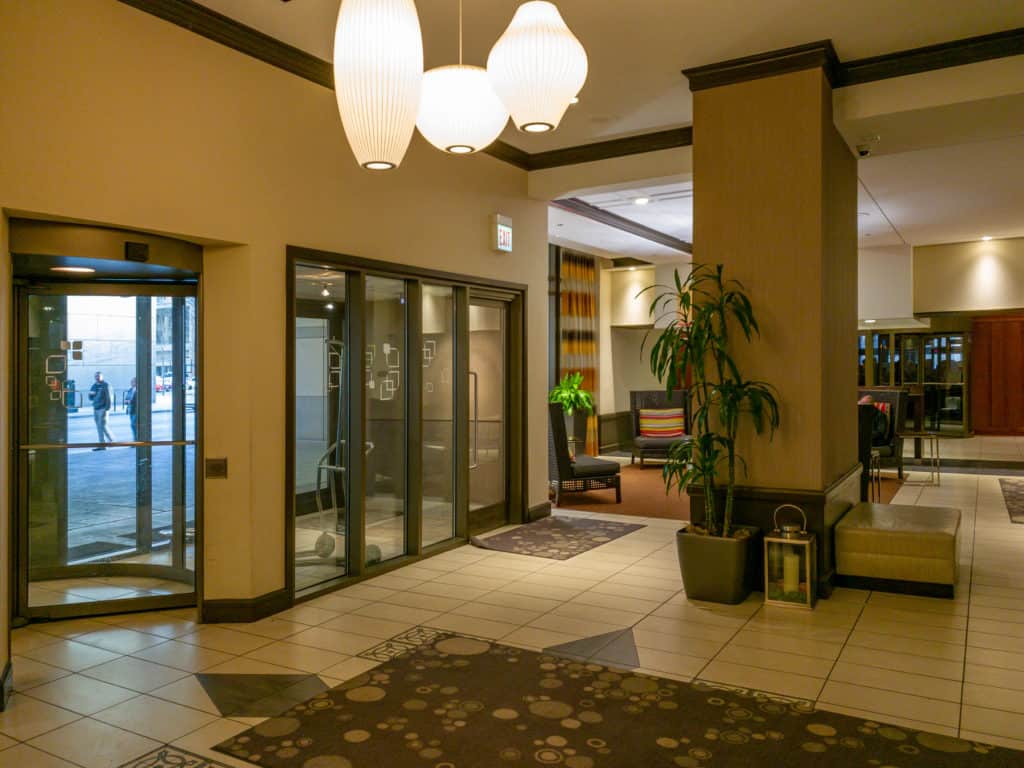 Hilton Garden Inn Magnificent Mile Ambiance
A tan-concrete, rectangular building taking up a good portion of an entire block of East Grand Avenue between North Wabash Avenue and Chicago's iconic State Street, the Hilton Garden Inn Chicago Downtown/Magnificent Mile is not the most exciting structure to look at—it looks a lot like a hotel. However, once you step into the lobby, you enter a very welcoming space, one that has been renovated in just the past 5 years. The floors here consist of off-white tiles flecked with diamond patterns, and there's a lot of dark wood. Contemporary seating is arranged throughout the lobby, making it a comfortable place to meet up with the rest of your traveling group, or just sit and catch your breath while enjoying a coffee. The in-house convenience store and on-site restaurant are also both accessible directly from the lobby.
Hilton Garden Inn Magnificent Mile Rooms
You can book several different kinds of rooms and suites at the Hilton Garden Inn Chicago Downtown/Magnificent Mile. Individual guestrooms check in at approximately 300 square feet in size, and adhere to the following configurations: 1 king bed, 1 king bed with a city view, 2 queen beds, and/or 2 queen beds with a city view.
Each of these layouts comes with a number of in-room amenities. You'll be able to enjoy the use of a refrigerator, microwave, and a Keurig-brand coffeemaker, as well as a 32-inch flat-screen high-definition television. There's a good-sized desk in each room, too, and an accompanying comfortable chair where you can make use of the complimentary in-room Wi-Fi service.
In-room décor here tends toward the subtle but tasteful. Muted earth tones dominate the space—you'll see a lot of tans and gentle browns throughout these accommodations. Most rooms come with an HGI Serta Garden Sleeper Plush mattresses, ensuring you'll be sleeping well through the night.
Bathrooms at the Hilton Garden Inn Chicago Downtown/Magnificent Mile are plain but functional. More tans in terms of colors, and plenty of plain white tiles, but modern in all ways. The shower is also a tub—with "scald-proof" technology—and you'll be provided complimentary Neutrogena bath products. There's also a hairdryer and plenty of electrical outlets.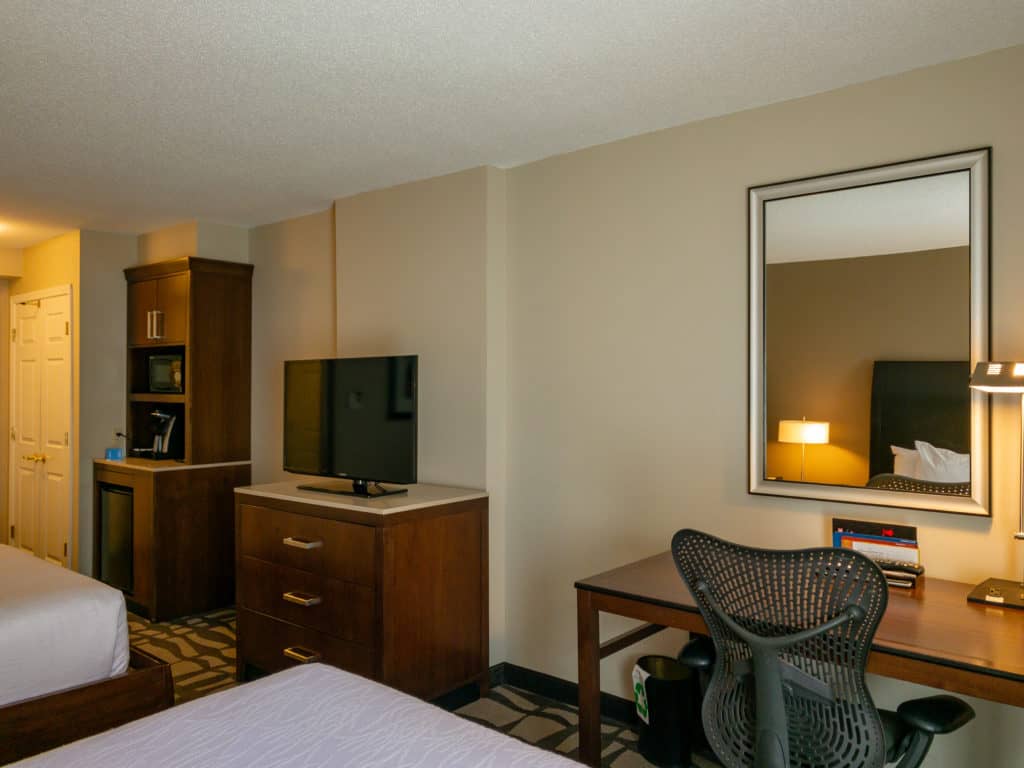 Hilton Garden Inn Magnificent Mile Amenities
The Hilton Garden Inn Chicago Downtown/Magnificent Mile features a variety of attractive amenities. The hotel has a friendly, multilingual staff happy to help you 24 hours a day, as well as a 24-hour business center designed to serve the needs of the busy executive. There you'll find a copier, printer, fax machine, and more. Miscellaneous audio-visual equipment, as well as a meeting rooms in an assortment of sizes and configurations, are also available for rental.
You'll also find here an indoor pool, whirlpool, and fitness center. The fitness center contains a useful mixture of treadmills, ellipticals, weight machines, free weights, and more. The pool makes for a terrific spot for the whole family. Even though it is indoors, the entire space is flanked with large, floor-to-ceiling windows which let in generous sunlight and grant great views of the surrounding cityscape.
There's an in-house dining option here, too. The Weber Grill Restaurant is located on-site, and is open every day of the week for breakfast, lunch, and dinner. No matter the time of day, they serve up authentic grill-centric dishes full of flavor and creativity. And if you're feeling really casual, you even order room service from them any night of the week between the hours of 6:00pm and 11:00pm.
Other amenities available at the Hilton Garden Inn Chicago Downtown/Magnificent Mile include an in-house convenience store stocked with snacks, drinks, and essentials, an ATM, and cribs you can rent for the night. On-site parking is your choice of self-park (running about $50 per night, but no in/out privileges) or valet (running about $65, with in/out privileges).
Hilton Garden Inn Magnificent Mile Neighborhood
The Hilton Garden Inn Chicago Downtown/Magnificent Mile is located in the heart of the lively River North neighborhood. When you spend the night in this happening area you'll be squarely in the midst of a great number of appealing dining and shopping destinations, as well as only two blocks from glamorous Michigan Avenue. Many of Chicago's most acclaimed tourist and cultural destinations can easily be reached from here, too. Nearby popular attractions include John Hancock Building, Museum of Contemporary Art, Millennium Park, Art Institute of Chicago, Navy Pier, the Museum Campus, and so much more.
Additional lodging choices are plentiful in the area, and include such options as Club Quarters Hotel Central Loop, Chicago Athletic Association Hotel, Four Seasons Hotel Chicago, Warwick Allerton, Hotel Lincoln, Hotel Chicago West Loop, Hotel Felix, Swissôtel Chicago, Majestic Hotel, and more.