Staff at Hotel Felix like to proudly remind guests that the word "felix" means "happy" in Latin, thus making clear that the establishment's primary purpose is written straight into its brand's name. Hotel Felix first opened its doors in 2009, meaning that is has now been offering guests a boutique hotel experience for over a decade. Located in Chicago's bustling River North neighborhood, Hotel Felix puts guests right in the midst of some of Chicago's best restaurants, bars, and shops. Plenty of Chicago's most popular tourist sites are nearby, too. On-site amenities include a fitness center, business center, 2 restaurants, and a coffee shop.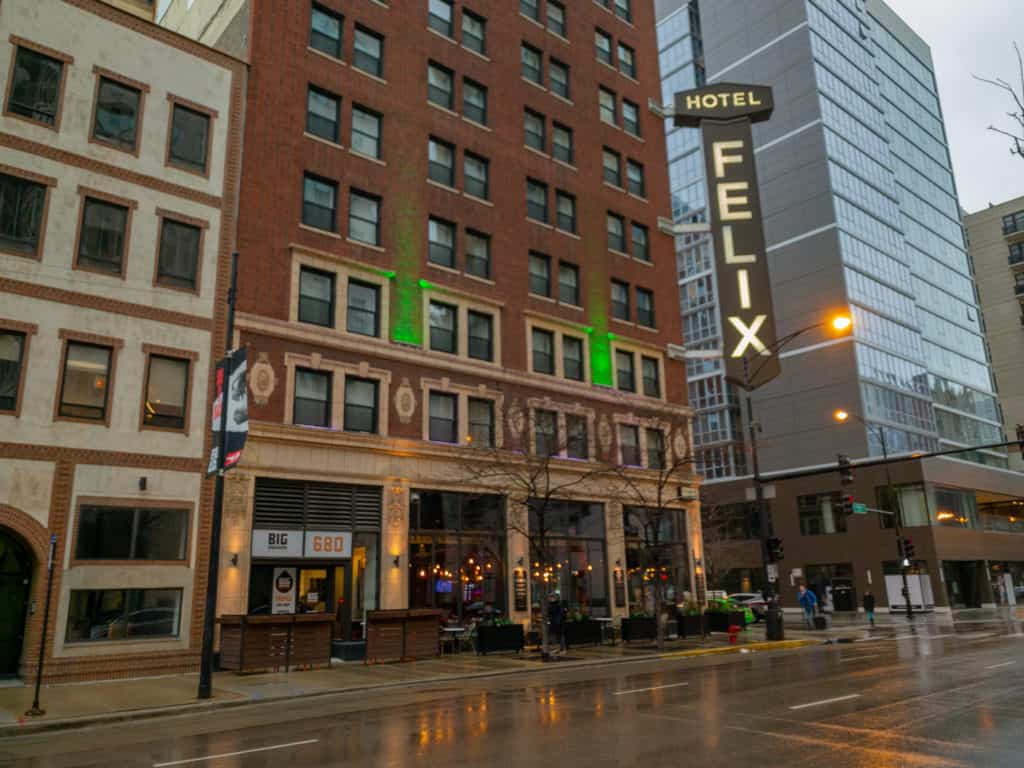 Hotel Felix Ambiance
The public spaces at Hotel Felix are chic and sophisticated, with just the right amount of character and personality. Right through the revolving front door you'll find a pleasant lobby area. A mixture of couches and chairs populate this space. Colorful blown-glass sculptures hang from the ceiling, and the hotel's on-site restaurants and coffee shop are easily accessible straight from this cozy spot. The walls are fairly free of artwork, but everything is well-lit and smartly laid out, design-wise.
Hotel Felix Rooms
Individual guestrooms at Hotel Felix come in 3 different formats: rooms with 2 double beds, 1 queen bed, or 1 king bed. Each one of these types of rooms may also be had in an ADA accessible format. All beds at Hotel Felix come with pillowtop mattresses, as well as plus bedding and high-thread count sheets.
In-room amenities at Hotel Felix include a 32-inch, flat-screen television with satellite channels, an iHome station, and a desk-and-chair combo perfect for sneaking in some worktime. Plush bathrobes are yours to use for the duration of your stay, and there's also an iron/ironing board, and a hairdryer.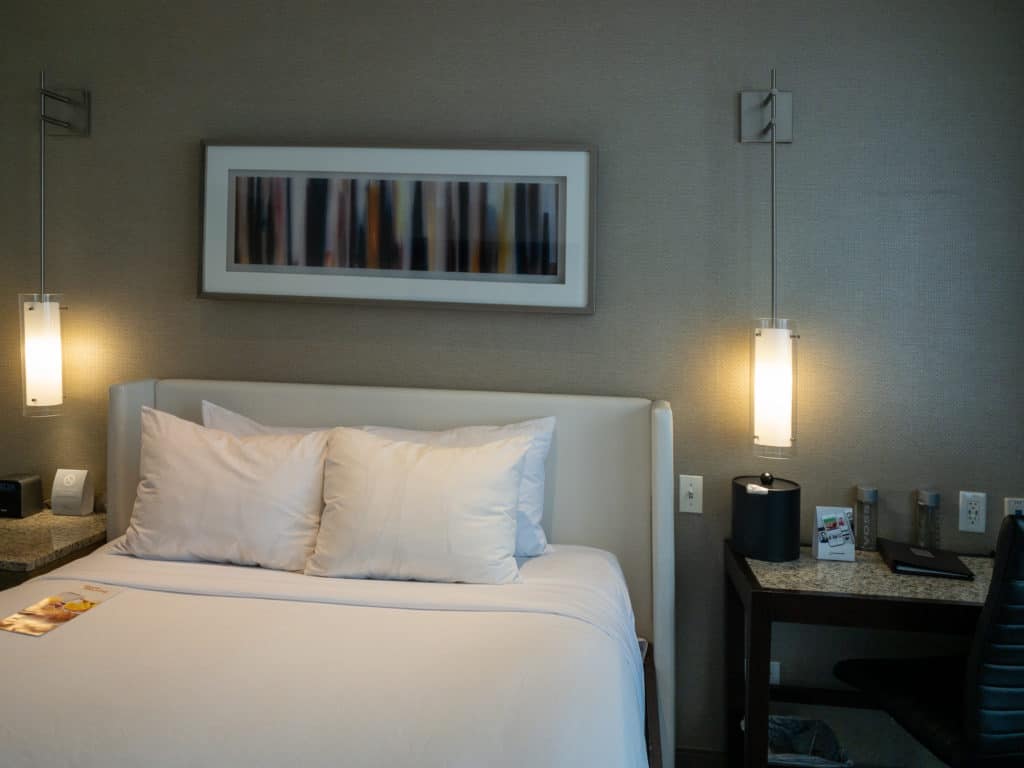 In-room décor here is simple, clean, and functional. The rooms here are low on color and flair, tending more toward quiet elegance. This means sparsely decorated white walls with the occasional pop of a blonde-wood panel. Granite-topped side tables and red armchairs are the real style highlights. The windows are sizable, let in plentiful light, and even open. Guestroom bathrooms at Hotel Felix are also at the functional end of the spectrum. They feature decent lighting and bit of shelf space, as well as L'Occitane bath products.
Hotel Felix Amenities
Amenities available at Hotel Felix include a small fitness center where you'll find 2 elliptical machines, 3 treadmills, and a host of free weights. There's also a business center on-site, equipped with multiple workstations that come with printer and fax access. Complimentary high-speed Internet access is offered to guests both in their individual hotel rooms and throughout the public spaces of the hotel.
Other amenities available at Hotel Felix are provided to guests as part of their "Urban Fee" package. Hotel Felix's "Urban Fee" is a $12 per night charge added to each guest's bill. It gives each guest access to the following amenities: a coffee at Hotel Felix's in-house Big Shoulders Coffee Shop, 2 bottles of water, and digital copies of multiple newspapers.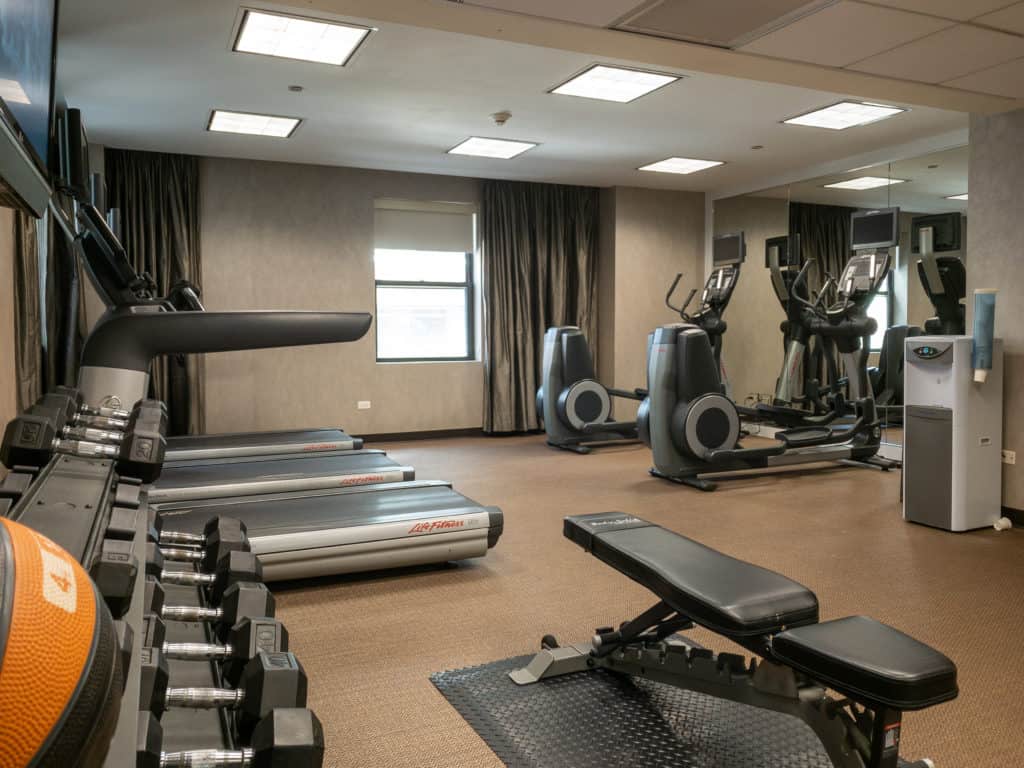 Hotel Felix is also home to 2 in-house dining options, the well-regarded Troquet and Taketei Sushi. Taketei Sushi is a casual establishment located right in the hotel's lobby. There you can cozy up with a group of friends over a drink or two while enjoying a selection of fine nigiri sushi and/or maki mono rolls in a setting of comfy couches around a large fireplace. Taketei Sushi is open for dinner on Tuesdays through Sundays between the hours of 5:00pm and 10:00pm.
Troquet is a French bistro that strives to replicate the vibe of an authentic Parisian café. It is open 7 days a week between the hours of 6:00am and midnight for breakfast, lunch, and dinner, and serves up an assortment of classic French dishes. Live music can be enjoyed here Wednesdays through Saturdays, and all throughout the week there are a host of happy-hour specials. The bar and lounge area of Troquet features local craft beer and specialty cocktails.
Hotel Felix Neighborhood
Hotel Felix is located in the heart of Chicago's vibrant River North neighborhood. Its prominent location at the corner of Huron and Clark Streets means guests will find hundreds of restaurants and plentiful shopping all within comfortable walking or driving distance, as well as many of Chicago's most popular attractions. Nearby Chicago favorites include the Magnificent Mile (Michigan Avenue), John Hancock Building (360 Chicago Observation Deck), Navy Pier, Newberry Library, Millennium Park, Art Institute of Chicago, Museum Campus, and many, many more.
There are a tremendous number of hotels in this general vicinity, too. You'll find close by such accommodations as Swissôtel Chicago, Hotel Lincoln, Hotel Chicago West Loop, Four Seasons Hotel Chicago, Hilton Garden Inn Chicago Downtown/Magnificent Mile, Club Quarters Hotel Central Loop, Warwick Allerton, Majestic Hotel, Chicago Athletic Association Hotel, among many others.