For all its many charms, Chicago is also famous for being home to a who's who of some of history's most infamous mobsters and criminals. In particular, throughout the first part of the 20th Century Chicago was where such infamous figures as Al Capone, Hymie Weiss, and John Dillinger had their headquarters. Today, Chicago Crime Tours helps visitors explore the Windy City's extensive criminal past by offering a number of guided tours that focus on organized crime in the city. The Crime and Pizza Walk is one of their special seasonal offerings, a guided walking tour that combines a stroll to several of Chicago's historic crime scenes with another of Chicago's claims to fame: pizza!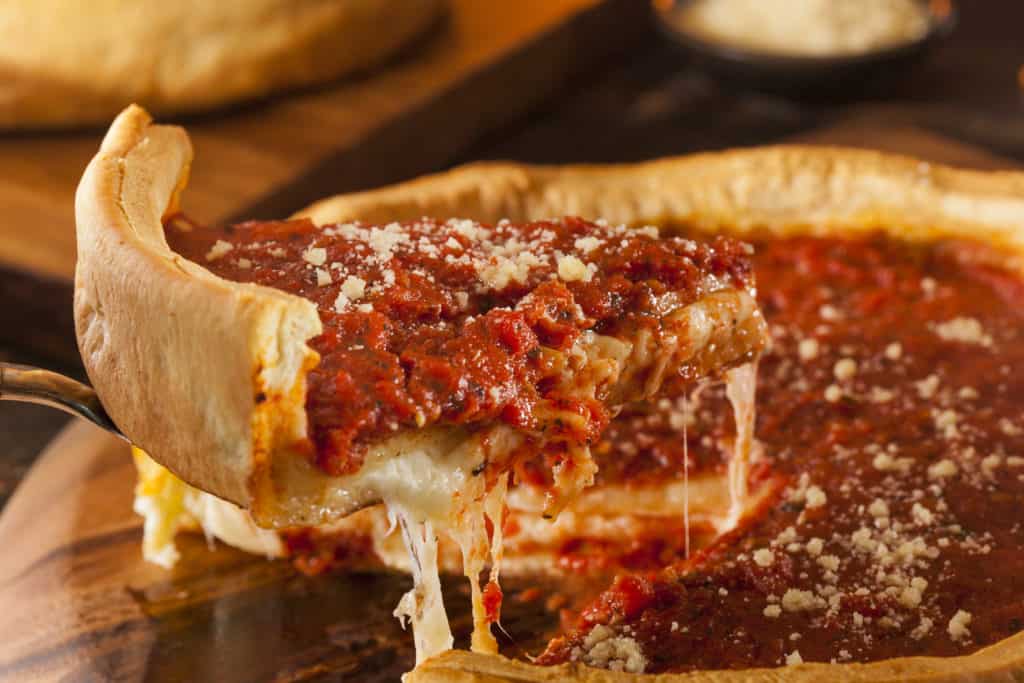 Crime and Pizza WalkTour Details
The Crime and Pizza tour is only available seasonally. Most years, Chicago Crime Tours begins running it during the month of May, and continues running it throughout the summer and into early fall. This special excursion usually lasts between 1.5 and 2 hours. Tickets cost approximately $50 per person, and advance reservations are required for all participants on this tour. The Crime and Pizza Walk tour begin just outside the Pizzeria Uno location found at 29 E. Ohio Street. That's where you'll meet up with your tour guide in order to start this family-friendly tour. From there, you'll enjoy slices of Chicago's legendary deep-dish pizza, while also partaking in a pleasant walk throughout Chicago's beautiful River North and Gold Coast neighborhoods. Throughout the entire outing you'll witness firsthand multiple sites of infamous Chicago crimes and learn all about the long history of organized crime in this fascinating city.
Major Crime and Pizza Walk Highlights
Chicago-style Pizza: Whether you're already a convert who has enjoyed it immensely in the past, or this is your very first time, no visit to Chicago is complete with trying some of the city's pizza. Most famous for deep dish, of course, pizza in Chicago does actually come in a variety of styles; regardless, it's a can't-miss experience for any food lover.
River North: This vibrant neighborhood is home to world-class shopping and dining—as well as, for the purposes of this specific tour, multiple famous crime scenes. In particular, Holy Name Cathedral is found here, where you can still trace the bullet holes in the church's walls from where Hymie Weiss was murdered during a shootout in 1926
Gold Coast: One of the most expensive neighborhoods found anywhere in the country, the Gold Coast is where Chicago's wealthiest residents live in comfort and luxury right along lovely Lake Michigan. It's a beautiful area, with tree-lined streets shading historic mansions and architectural marvels.
Is the Crime and Pizza Walk Tour for You?
The Crime and Pizza Walk is a really unique tour, one that makes for a very special occasion. Equal parts scenic walking tour, pizza-focused food tour, and historical crime tour, there's really nothing else out there quite like it. You just have to make certain you're interested enough in the subject material, particularly at this price point, to be sure this tour is right for you. If you're attracted to learning more about Chicago's criminal history, but not sold on whether or not the Crime and Pizza Walk is for you, you might want to consider another one of Chicago Crime Tours' selections, the Chicago Crime and Mob tour. That Chicago tour will cover more actual ground—as in you'll see a wider selection of local crime sites—plus there's little walking involved, if that's a factor in your decision-making.