Among its many claims to fame, Chicago is notable for having at one time or another been home to, or the base of operations for, a long list of history's most infamous criminals and mob figures. Notable criminals who at one time or another passed through the Windy City include Al Capone, John Dillinger, Hymie Weiss, and more. For all those visitors interested in learning more about the history of organized crime in the city of Chicago, Chicago Crime Tours offers the Chicago Crime and Mob tour. This guided tour runs throughout the near North Side of Chicago, taking guests to multiple historic crime locations and murder sites.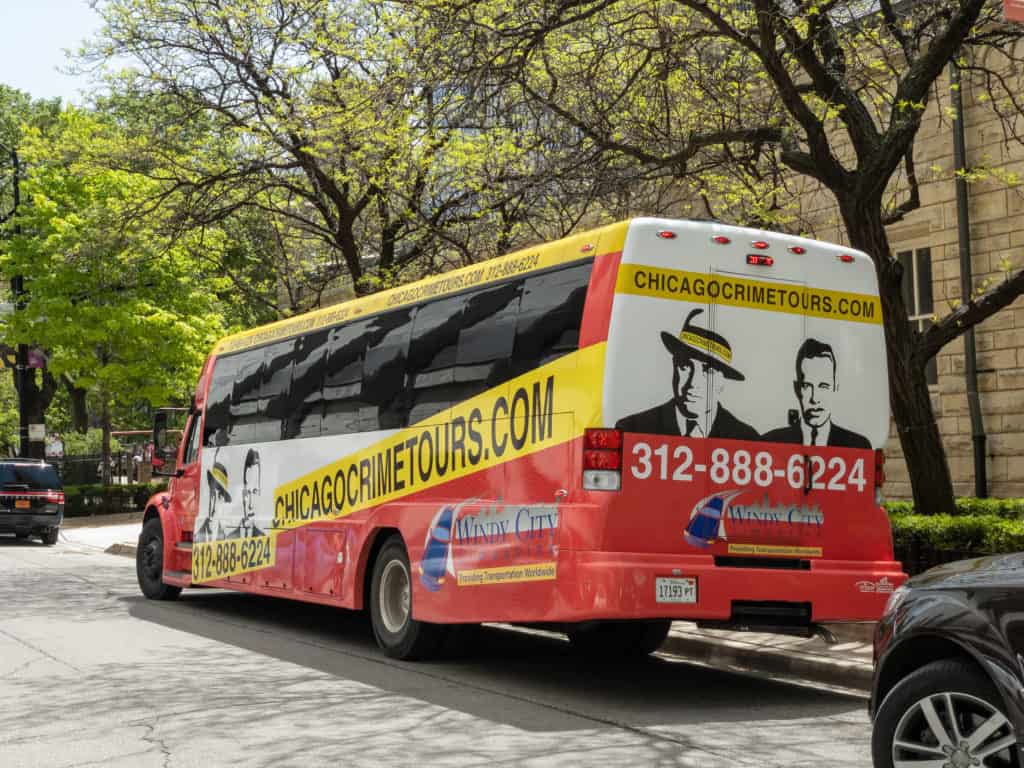 Chicago Crime and Mob Tour Details
The Chicago Crime and Mob tour is Chicago Crime Tours flagship tour. Its distinctive yellow crime-scene tape-wrapped coach buses bear the faces of Al Capone and John Dillinger, and depart from the corner of Michigan Avenue and Pearson Street. From there the tour takes you to a number of famous crime scenes located throughout the near North Side of Chicago, while your entertaining guide regales you with stories about Chicago's history as a hub for mobsters and the activities of organized crime. Along the way you'll see Biograph Theater, where John Dillinger was killed; Holy Name Cathedral, where Hymie Weiss was murdered; and the site of the St. Valentine's Day Massacre, a case that to this day has never been definitively solved, but is linked to Al Capone and his associates. The Chicago Crime and Mob tour usually lasts about 1.5 to 2 hours; during the week it typically runs 3 times a day, while on weekends it often goes 4 times a day. Tickets cost approximately $40 per person.
True crime fans might also be interested in checking out Chicago Crime Tours' special Night Crimes tour. The Night Crimes tour is a somewhat expanded version of the Chicago Crime and Mob tour that lasts between 2 and 2.5 hours. You'll see many of the same highlights, but dig even deeper into Chicago's criminal history. The Night Crimes tour runs Monday, Wednesday, Thursday, and Friday evenings at 8:00pm. Advance reservations for this tour are highly recommended, and tickets cost about $45 per person.
Chicago Crime and Mob TourMajor Highlights
Michigan Avenue: Your Chicago Crime and Mob tour departs from 163 E. Pearson Street, a prominent corner right in the midst of some of Chicago's most exclusive real estate. This is just steps away from the "Magnificent Mile" of Michigan Avenue, as well right nearby such tourist attractions as Water Tower Place, John Hancock Center, and the Museum of Contemporary Art, to name only a few.
Biograph Theater: The Biograph Theater is famous for being the site where infamous bank robber John Dillinger was shot and killed by FBI agents in 1934. Known today as Victory Gardens Theater, and located in the lively Lincoln Park neighborhood, it is on the National Register of Historic Places.
Holy Name Cathedral: This beautiful Gothic cathedral was dedicated in 1875 and still serves today as an active place of worship. However, during this tour the focus will be on looking at the bullet holes that remain visible from when Al Capone's rival Hymie Weiss was gunned down nearby in the fall of 1926.
Courthouse Place: Today this historic structure is known as Courthouse Place, and serves as a mixed-use office building. However, once upon a time it was the Cook County Criminal Court Building, and was the setting for numerous legendary trials, including cases like the Leopold and Loeb trial, the Black Sox scandal trial, and others.
Is Chicago Crime and Mob Tours for You?
Obviously, the Chicago Crime and Mob tour is a special tour serving a very specific set of interests. However, if you are in fact interested in learning more about Chicago's history as a center of organized crime, or just want to see for yourself in-person several of the most famous crime sites around, the Chicago Crime and Mob tour is a can't-miss experience. It consistently receives strong reviews from customers, and the majority of individuals who go on this guided tour report back it having been well worth their time and money.