The Lincoln Park Bike Adventure is the most popular tour offered by Bike and Roll Chicago. This well-regarded bicycle tour consists of a multi-hour guided bike ride that takes you along Chicago's Lakefront Trail between Navy Pier and Lincoln Park. Along the way you'll have stunning views of the Chicago skyline and Lake Michigan. You'll also come face-to-face with multiple Chicago landmarks such as North Avenue Beach, Lincoln Park Zoo, and Lincoln Park Conservatory. Whether you bike regularly or are pretty new to sightseeing-while-cycling, the Lincoln Park Bike Adventure has all the makings of a terrific morning out and about in the Windy City.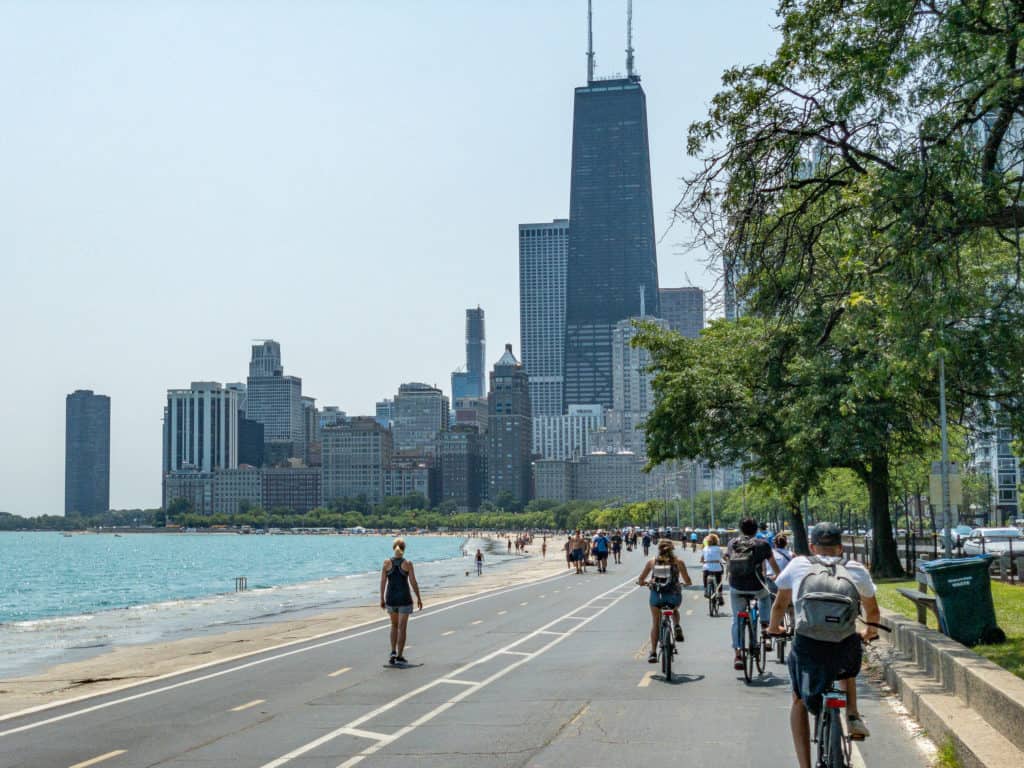 Lincoln Park Bike Adventure Tour Details
Bike and Roll Chicago's Lincoln Park Bike Adventure is considered an "easy riding" experience, making it suitable for kids and families. The tour typically lasts anywhere from 2-3 hours, and takes you north along Chicago's Lakefront Trail, a car-free path that runs right along Lake Michigan. Throughout this guided ride you'll pass the Gold Coast neighborhood, Oak Street Beach, North Avenue Beach, and Lincoln Park—all while biking in the midst of one of the world's grandest lakefront skylines. The Lincoln Park Bike Adventure is available between the months of May and September. During that time period it runs once daily, departing every morning at 10:00am. The tour leaves from 700 East Grand Avenue at Navy Pier, where Bike and Roll Chicago staffs an outdoor booth in the midst of Polk Bros. Park, which can be found just to the south of the entrance to Navy Pier. Tickets cost about $45 for adults, and $35 for all children under the age of 12 years old. The price of your Lincoln Park Bike Adventure tour ticket does include the cost of both bike and helmet rental.
Major Lincoln Park Highlights
Lakefront Trail
Chicago's Lakefront Trail is one of the city's outdoor recreational treasures. It extends nearly 20 miles, running all the way from Ardmore Street and Sheridan Road on the north side of the city to 7100 S. South Shore Drive on the south side. Throughout this entire expanse it provides breathtaking views of Chicago's diverse neighborhoods, beautiful skyline, and lovely Lake Michigan.
North Avenue Beach
Located at the southern edge of Lincoln Park, right in the shadow of Lake Shore Drive, North Avenue Beach is one of Chicago's most popular lakefront destinations. Locals flock here during beautiful weather to enjoy its assortment of volleyball nets and pop-up restaurants.
Lincoln Park Zoo
First founded in 1868, Lincoln Park Zoo is still going strong today. Beloved by generations of Chicagoans, entry to Lincoln Park Zoo is free; once inside you'll find over 1,000 animals of some 200 different species, as well as a mixture of shopping and dining options.
Lincoln Park Conservatory
Operated by the Chicago Park District, this delightful glasshouse dates to the early 1890s. It is open each day between the hours of 9:00am and 5:00pm, and contains four distinctive display houses, each one sheltering a unique assortment of plant life.
Is the Lincoln Park Bike Adventure for You?
For outdoor enthusiasts—or just those visitors who desire to see the many wonders of Chicago from a special perspective—experiencing the Lakefront Trail is a can't-miss proposition. While there are many ways to go about this, including a number of different bike rental opportunities, Bike and Roll Chicago's Lincoln Park Bike Adventure is a good option for those new to Chicago who'd prefer a guided bike experience. The Lincoln Park Bike Adventure is of course subject to weather conditions, but if it's a nice day out, this is a great tour. It's kid-friendly, too, making it an excellent option for families. You won't see as much of Chicago as other guided tours, but you'll see it at a slower pace, and from a unique vantagepoint.