Bike and Roll Chicago is well-known for their guided bike tours and hourly bike rentals, but they also offer a variety of well-regarded Segway tours. One of their more popular Segway tours is The Amazing Lakefront excursion. This multi-hour guided Segway tour takes you all throughout Chicago's gorgeous downtown lakefront district. Along the way you'll be able to take in the many famous attractions of this beautiful but bustling area at a leisurely pace that'll leave you with plenty of time to enjoy the scenery and take as many pictures as your heart desires.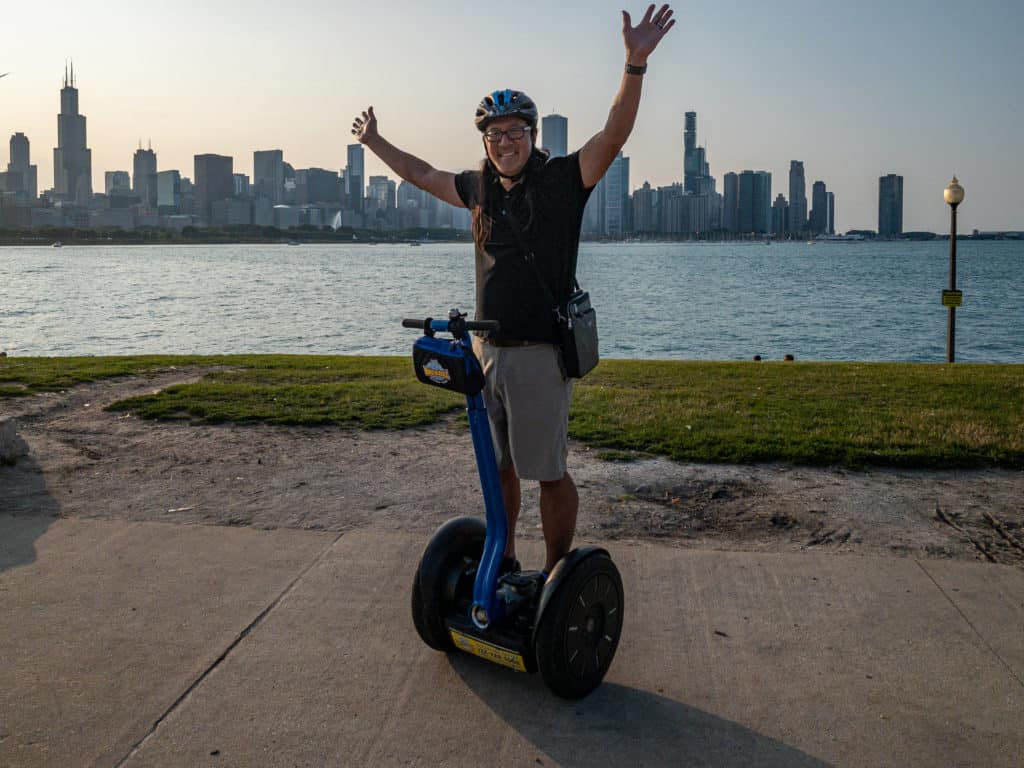 Amazing Lakefront Segway Tour Details
The Amazing Lakefront tour typically lasts for about 2.5 hours, and is considered an "easy ride" suitable for most individuals. Its primary focus is helping you explore downtown Chicago's world-class park system. The tour departs from Bike and Roll Chicago's Millennium Park location at 239 E. Randolph Street, which is located near the northeast corner of the park near Columbus Drive. The Amazing Lakefront tour contains a number of highlights, including such attractions as Millennium Park, Grant Park, and the Museum Campus, just to name a few. The Amazing Lakefront tour runs daily between the months of May and October, departing at your choice of either 10:30am or 2:30pm. You must be at least 12 years old to participate. Tickets cost approximately $75 for adults and $65 for those individuals between the ages of 12 and 20 years old. Prices for all tour tickets contain the cost of Segway rental, as well as a protective helmet. While not strictly required, Bike and Roll Chicago encourages all tourgoers to wear closed-toe athletic shoes.
Major Amazing Lakefront Highlights
Chicago Skyline: One of the best parts of The Amazing Lakefront tour is how it provides guests with wonderful views of Chicago's stunning skyline. Traveling along on your Segway, you'll be able to snap all sorts of outstanding photos from all types of terrific angles.
Millennium Park: Ever since its unveiling in the summer of 2004, Millennium Park has been one of Chicago's most popular attractions. Occupying the prime northwest corner of Grant Park bordering Michigan Avenue and Randolph Street, Millennium Park contains Pritzker Pavilion, Lurie Garden, a restaurant/bar, and Cloud Gate—the iconic piece of sculpture better known to many as "The Bean."
Grant Park: Nicknamed "Chicago's front yard," this remarkable green space is located between Lake Michigan and the Loop neighborhood. In addition to acres and acres of lovely park land, here you'll find notable attractions like Buckingham Fountain and the Art Institute of Chicago.
Museum Campus: Situated right on Lake Michigan just south of Grant Park, Chicago's beloved Museum Campus consists of Adler Planetarium, Field Museum, and Shedd Aquarium. Factor in nearby Soldier Field—home of the National Football League's Chicago Bears—and this special corner of the city is a can't miss spot.
Is the Amazing Lakefront Segway Tour for You?
Whether or not Bike and Roll Chicago's The Amazing Lakefront tour is right for you really depends on what exactly you want from a guided tour of the Windy City. With tickets priced approximately $65 to $75 per person, The Amazing Lakefront tour is no bargain; in fact, there are certainly more affordable tours out there (that require less effort and exertion, too) during which you'll see a lot more of the city than you do on this particular outing. However, The Amazing Lakefront is a unique tour, one that provides you with an intimate view of some of Chicago's most memorable public spaces—so if you've always wanted to ride a Segway around one of the world's greatest lakefronts, go for it!