Chicago is a city of many wonders, yet even among those many wonders there are standout elements especially worth celebrating. One of these would have to be its tremendous art scene. Everywhere you turn in Chicago you're liable to spy an art museum, come across an art gallery, or encounter a work of public art. For the art lovers out there planning a visit to the Windy City, here's a brief guide to some of the most notable artsy attractions in Chicago.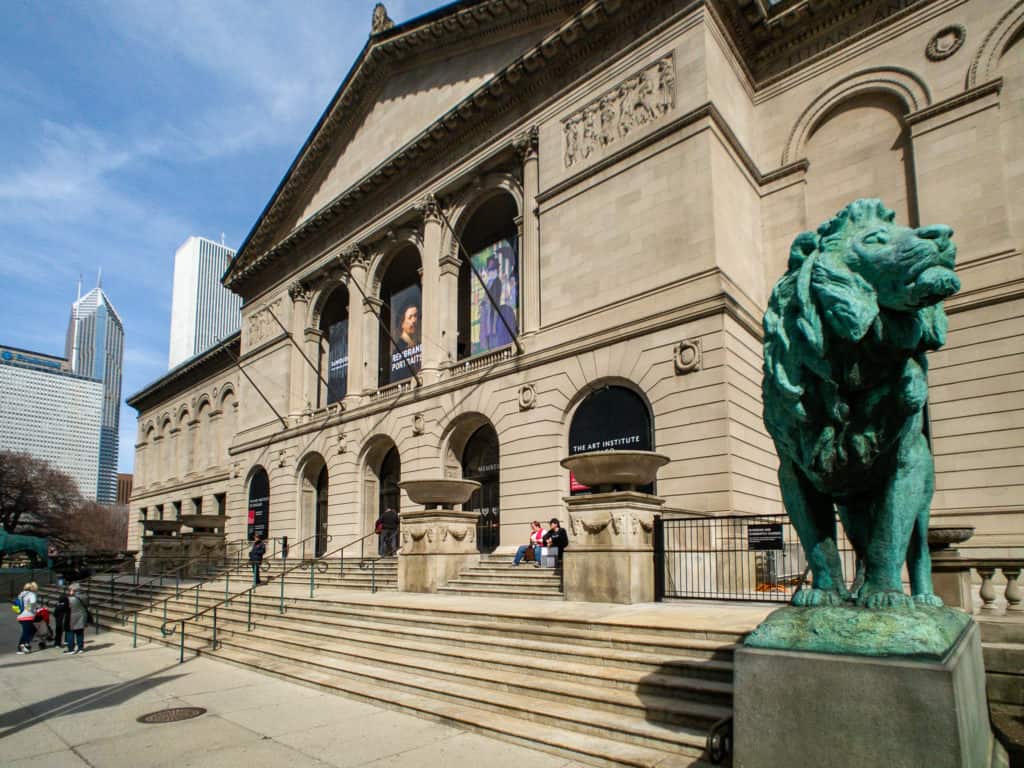 Art Institute of Chicago
When it comes to the subject of Chicago art, where else can you start but with the Art Institute of Chicago? One of the world's foremost art institutions, the Art Institute of Chicago is a treasure. This acclaimed museum hosts millions of visitors each year, houses over 300,000 distinct works of art spread across 15 curatorial departments, and contains such varied masterpieces as Edward Hopper's Nighthawks, Georgia O'Keeffe's Sky above Clouds IV, and Grant Wood's American Gothic, to name but a few. What's more, the Art Institute of Chicago is a staple of Chicago-centric attraction passes, meaning it'll always be available as part of something like the Go City Chicago pass. Visiting the Art Institute of Chicago with one of these passes in hand will save you both time and money.
Museum of Contemporary Art
The Museum of Contemporary Art has long been a personal favorite of mine. It's located just one block east of the Magnificent Mile, Michigan Avenue, and you never know exactly what type of innovative show you're going to see here. One week it might be a mid-career retrospective on Virgil Abloh, another a look back at the work of Andy Warhol, the next a centenary year John Cage exhibition. The one constant, though, is the MCA's commitment to supporting contemporary art and its powers of possibility. Illinois residents can visit free of charge on Tuesdays, but if that's not an option for you, don't worry: the MCA is covered by the ever-useful Go Chicago pass!
American Writers Museum
Casting a slightly wider net here and including the literary arts as part of our "artsy Chicago" survey allows us to feature the American Writers Museum, one of the city's newer museums. Prominently situated on Michigan Avenue just one block north of Millennium Park, the American Writers Museum combines a burgeoning permanent collection with an exciting assortment of traveling temporary exhibits. Highlights include the Children's Literature Gallery, an interactive space perfect for the young readers in your life; A Nation of Writers, which catalogs some of America's most famous authors; and the Chicago Gallery, a room dedicated to those literary artists with strong ties to the city. Consider using your Go Chicago pass to visit the American Writers Museum, too!
National Museum of Mexican Art
The institution that would become the National Museum of Mexican Art got its start in Chicago in 1982, and first opened its doors at its current location, near Harrison Park in the bustling Pilsen neighborhood, in 1987. It officially took its current name in 2006, and houses nearly 20,000 artworks dating from ancient Mexico to the contemporary day. It's the perfect place to spend an afternoon (or two!) losing yourself in the power and beauty of art.
Richard H. Driehaus Museum
The Richard H. Driehaus Museum is one of the more stylish museums you're ever going to come across, that much is for sure. This is because it occupies a lavish structure, the 1883 Nickerson Mansion, at the heart of Chicago's lovely River North neighborhood, just two blocks west of Michigan Avenue. The Driehaus Museum specializes in the decorative arts, and puts on a number of temporary exhibits throughout the year. The home itself has been fully restored and contains an extensive selection of late 19th Century art objects. No matter what art show is on when you happen to be visiting, it's a fascinating place to explore.
Smart Museum of Art
This eclectic facility is located on the campus of the prestigious University of Chicago, and admission is free and open to the public. The Smart Museum of Art originally opened its doors in 1974, and ever since then it's been sponsoring scholarly rigorous and artistically adventurous shows of all sorts. Smart Museum's permanent collection is no slouch either: at some 16,000 pieces, it covers everything from ancient artifacts to contemporary paintings.
Ukrainian National Museum
Located in Chicago's charming Ukrainian Village neighborhood, the Ukrainian National Museum houses archetypal examples of Ukrainian folk art objects. These striking artifacts include such items as "pysanky"—which are decorated easter eggs (they're breathtaking to behold in person)—and lavishly embroidered pieces of traditional Ukrainian clothing. There is also a permanent exhibit on Chicago's robust Ukrainian population, and the museum's archives hold a wealth of rare books, musical instruments, historical documents, and more.
Contemporary Galleries
There are far too many possibilities to enumerate here, but while we're at it, a friendly reminder: when you're on the trail of great art in Chicago, don't limit yourself to the institutions detailed above—fabulous as they may be. Rather, also make time to check out one of the city's remarkable contemporary art galleries. You'll find these sorts of galleries scattered all throughout Chicago, and you never know what hidden gems you might uncover when take a moment to check them out.
Public Art Galore
Likewise, Chicago is a city bursting with examples of public art. From sculptures in parks to paintings on the sides of buildings to interactive pieces just waiting for your attention to bring them alive, you'll find public art everywhere you look in Chicago. So put on your comfortable walking shoes, bring along your camera, and keep your eyes peeled!