Navy Pier is one of Chicago's most popular attractions, a distinction it holds in no small part because of the abundance of awesome activities available there. There's so much to see and do there, in fact, that you might need some help figuring out where to start. Here are 10 fabulous things to do at Navy Pier on your next visit to Chicago.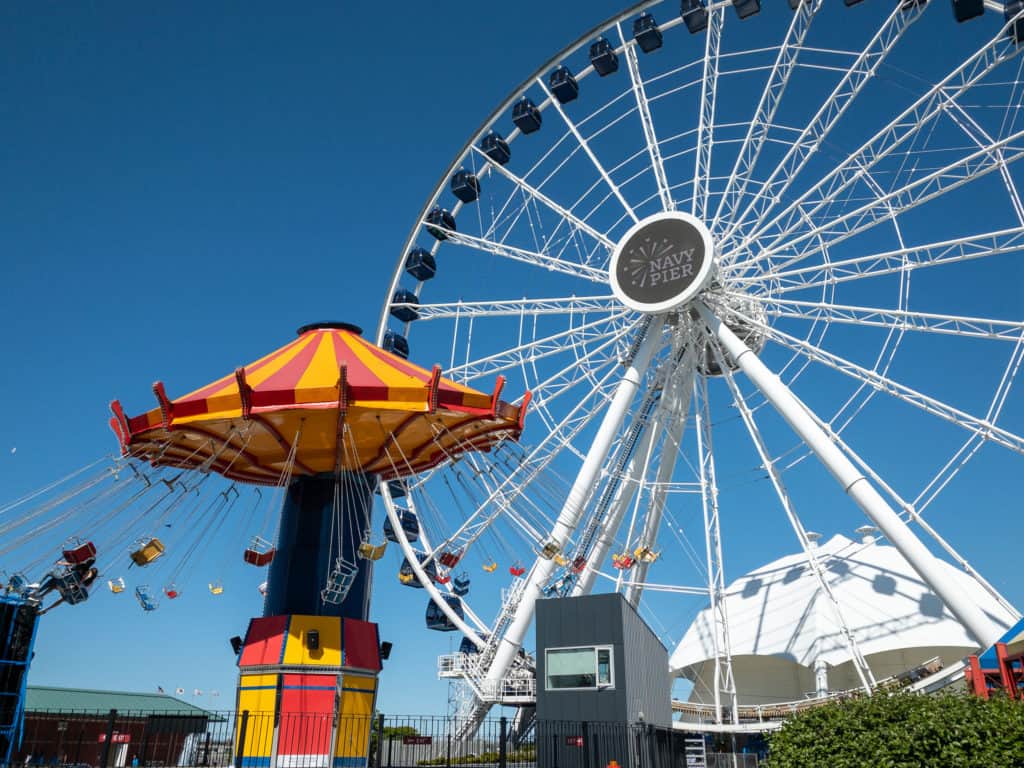 Centennial Wheel
If you know one thing about Navy Pier in advance of your visit, it's likely to be that it's home to the Centennial Wheel, an iconic Ferris Wheel that is in many ways the unofficial symbol of Navy Pier. If you're headed to Navy Pier, you simply must do the Centennial Wheel at least once: it rises nearly 200 feet in the air and features remarkable views of the Chicago skyline and Lake Michigan. Even better, it's situated in the midst of a number of other fantastic rides and fair-style games perfect for the kids. You can find all these and more in Pier Park.
Chicago Children's Museum
There are many folks who think the Chicago Children's Museum is the absolute best attraction to be found at Navy Pier. Regardless of where you come down on that issue, there's no denying it's an amazing experience for the kids. You can't go wrong no matter what exhibits you focus your energies on, but particular favorites here would have to include Kids Town, a child-sized replica of Chicago; Cloud Buster, a 37-foot-tall interactive work of art by Kevin Winters; and Suchomimus, a life-size dinosaur skeleton on display just inside the museum.
Chicago Shakespeare Theater
Through and through, Chicago is a theater town. From nationally acclaimed companies like Goodman Theatre and Steppenwolf Theatre to storefront treasures like Steep Theatre Company and The Den Theatre, Chicago's theater scene is second to none. Fortunately for you, one of the city's larger profile (and more unique) theater experiences can be had right here at Navy Pier: the Chicago Shakespeare Theater. This state-of-the-art company puts on hundreds of productions each year across its three stages and throughout the city's parks during the summer months. The Jentes Family Courtyard Theater is the real standout, though: it's a 500-seat venue modeled after Shakespeare's legendary Globe Theatre.
Bike Tours
One of the more enjoyable ways to explore Chicago is by bike, and there's no better place in the city to rent a bike or join a guided bike tour than right here at Navy Pier. If this sort of thing sounds like your cup of tea, a quality option to consider would be Bike and Roll Chicago. This local tour company operates guided bike tours, rents bikes by the hour or day, and runs organized Segway tours. What's more, their hourly bike rentals are available as part of an all-inclusive travel pass offered by Go City Chicago, which would help you see the city and save money at the same time!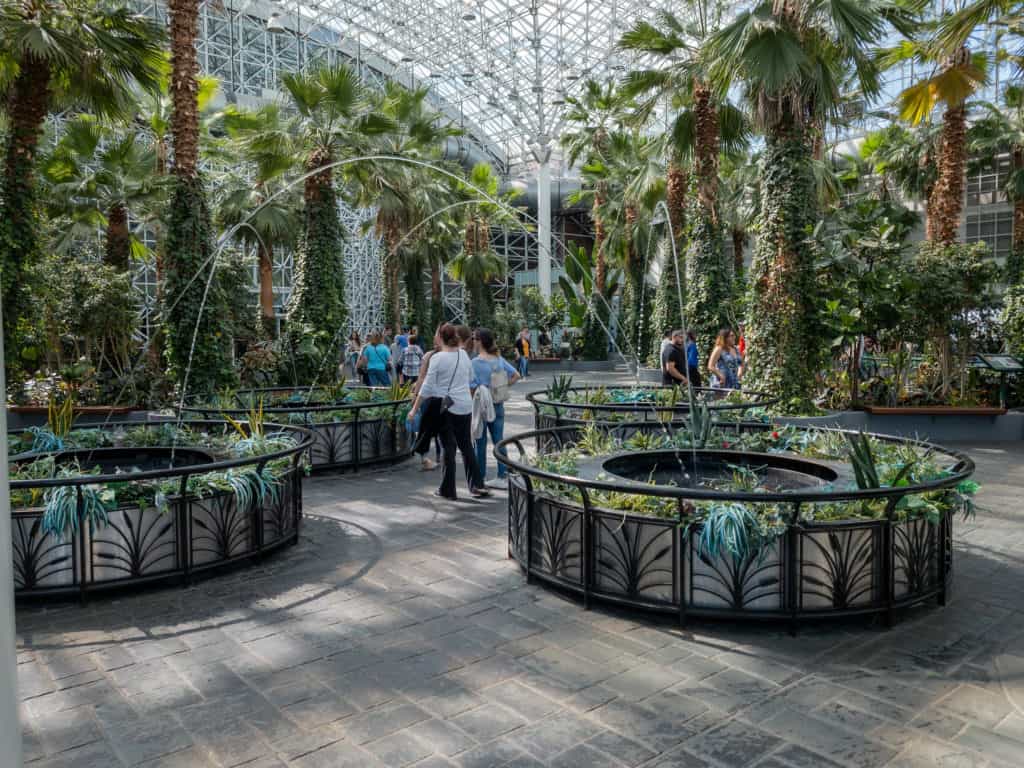 Crystal Gardens
Crystal Gardens is another Navy Pier gem just waiting for you to explore it. In essence, Crystal Gardens is an indoor botanical garden. Enclosed within a six-story glass atrium, this one-acre oasis is home to 80 palm trees, multiple fountains, a scenic pathway, and numerous other plants. It's the perfect place to commune with nature while catching your breath during your time at Navy Pier—or to seek a few minutes' shelter if, heaven forbid, a bit of rain should start to fall during your visit.
Boat Tours
Chicago is a city with a deep, fundamental connection to its waters, and thus, in many ways, you haven't truly experienced it if you haven't experienced it from the water. Therefore, let me recommend you taking some sort of boat tour or river cruise while you're in town. There will be many choices at your disposal throughout the city, but several depart right from Navy Pier. These include the Tall Ship Windy, a 150-foot topsail schooner, and Shoreline Sightseeing's Skyline Lake Tour—both of which are available on an attraction pass from Go City Chicago.
Polk Bros Park
Polk Bros Park is more or less the front entrance to Navy Pier, and as a result, many visitors, in their (understandable) excitement at finally arriving at this landmark destination, rush straight past it, never stopping to take stock of the many charms found right here at the pier's entry point. Polk Bros Park consists of 13 acres of shady trees, green lawns, bubbling fountains, and plenty of places to sit, chill, and relax. Get comfy and let the kids splash in the fountains, or make a plan to check out one of the many free live music performances that regularly take place here. Either way, you can't go wrong!
Ohio Street Beach
While technically located a few hundred feet north of Navy Pier, wedged between Milton Lee Olive Park and Jane Addams Memorial Park (both of which are worth checking out in their own right), Ohio Street Beach is deserving of a stop during your visit to Navy Pier, too. Ohio Street Beach typically tends to be a little less busy than other popular local beaches like Oak Street Beach and North Avenue Beach, while still also providing spectacular skyline views and access to stunning Lake Michigan. So grab your sunscreen, a towel, and go!
Live Fireworks
One of the great modern traditions of Navy Pier is its summer fireworks series. Every Wednesday and Saturday nights, between Memorial Day and Labor Day weekend, the skies over Navy Pier are lit up in bursts of glorious color. These firework shows can be seen from anywhere on Navy Pier—and from the roofs of many downtown buildings, too, it should be noted—and are free for all. Times are subject to change depending on circumstances and the occasion, but more often than not, the Wednesday evening show begins at roughly 9:30pm, while the Saturday night spectacle goes down around 10:15pm.
Great Dining Options
When in doubt, eat! You already know you're going to work up quite the appetite exploring all there is on offer throughout the Windy City, so why not take advantage of being at Navy Pier to grab a great meal? Navy Pier is home to dozens and dozens of dining options. You'll find throughout the attraction cuisines for every tastebud and styles of meals for every palate. From Chicago staples like deep dish pizza and hot dogs, to fast, casual Asian, Italian, barbecue, and more, it's all here.