Beautifully situated right alongside scenic Lake Michigan, the city of Chicago is a premier travel destination for a wide variety of different reasons. Its attractive mixture of world-class museums and art galleries, exotic high-end shopping, unique architecture, and fine dining make it a must-visit for travelers of all ages, interests, and budgets. With that in mind, if you're planning a trip to Chicago and you've got the resources, you might want to consider making it a visit to remember by booking a room at one of the Windy City's most luxurious establishments. Chicago is home to a number of luxury hotels, and at any one of these magnificent hotels you'll find lavish accommodations, spacious rooms, and a whole host of special amenities.
As many nice hotels as one will find in a city as big and prestigious as Chicago, luxury hotels here tend to have that extra special "something." You'll feel it as soon as you pass through their revolving doors, the noise of the bustling city street falling away behind you as you slip into a lobby area of quiet elegance and tasteful refinement. The typical public spaces of a luxury hotel in Chicago have plenty of gleaming marble flooring, dark wood reflecting the twinkle of chandeliers, and high-end furniture where you can enjoy a cappuccino and the paper or just chat comfortably with friends as you plan your next outing. All of this is usually set in the midst of thoughtfully laid-out interior design, and accompanied by a caring, attentive staff devoted to putting you at ease throughout the duration of your stay. In Chicago, it's even possible a movie or two has been filmed at your luxury hotel of choice!
At a luxury hotel in Chicago you won't be limited to the same cookie-cutter room layout. Rather, you'll find rooms available in several different formats, shapes, and sizes. This means that no matter the lodging needs of you and/or your traveling group, you'll find exactly what you're looking for here. What's more, one of the real calling cards of a Chicago luxury hotel is the assortment of opulent suites at your disposal. These distinctive accommodations will often range from suites suitable for families traveling with kids who need that extra bit of space to spread out and be comfortable, to suites appropriate for a very special occasion, to suites that are the equivalent (in size and design) of a penthouse apartment. And when it comes to in-room features—whether it's a matter of bedding, television-size, or kitchenette design—a Chicago luxury hotel will feature only the best.
One of the ways in which luxury hotels in Chicago really set themselves apart from other hotels in the area is the tremendous selection of amenities they offer their guests. Luxury hotels here won't just come with desirable amenities like a fitness center or pool, they'll come with a fitness center carrying only the most cutting-edge, well-maintained equipment and swimming pools designed to resemble Roman baths. Many luxury hotels will also provide their own in-house spa facilities, as well as dedicated play areas for children and even babysitting services. Multiple in-house dining options are also a hallmark of the luxury hotel experience. Most of the finest hotels in Chicago have several different restaurants and bars on-site catering to a variety of tastes and desires. It's also common for luxury hotels to offer guests twice-a-day housekeeping, transportation services, and complimentary goodies like free coffee and more.
You're liable to find luxury hotels located throughout Chicago's vibrant downtown core, meaning that no matter which luxury accommodation you choose while visiting the Windy City, you'll be well-positioned to enjoy all its most famous attractions. Many of Chicago's finest hotels are found near Michigan Avenue. Known to many as "The Magnificent Mile," Michigan Avenue is home to high-end shopping, destination dining, and more. Popular Chicago attractions found nearby would include John Hancock Building, Water Tower Place, and the Museum of Contemporary Art, while the Gold Coast and Streeterville neighborhoods are in the general area, too. You'll also find other luxury hotel options near Millennium Park and The Loop. A stay at these grand hotels would put you close to attractions like the Art Institute of Chicago, Navy Pier, and the Museum Campus.
Top Luxury Hotels in Chicago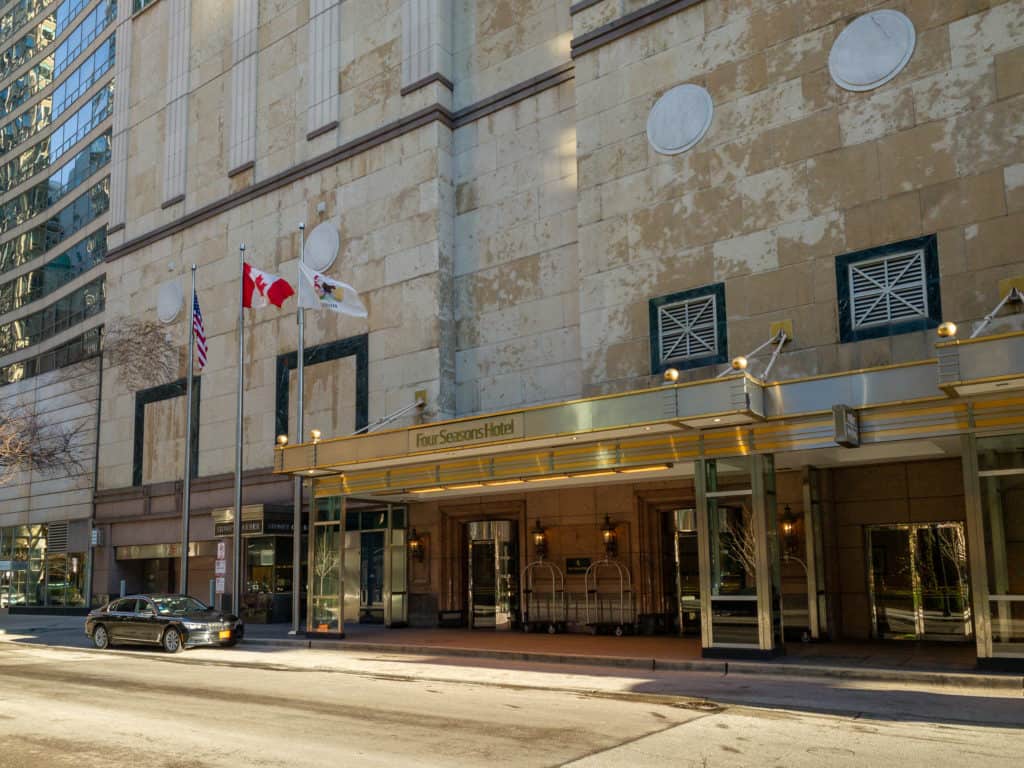 Four Seasons Hotel Chicago is one of the most well-regarded hotels in the entire city of Chicago. Here guests can enjoy sparkling accommodations and luxurious amenities, all while taking in the splendor of one of the area's most prestigious addresses.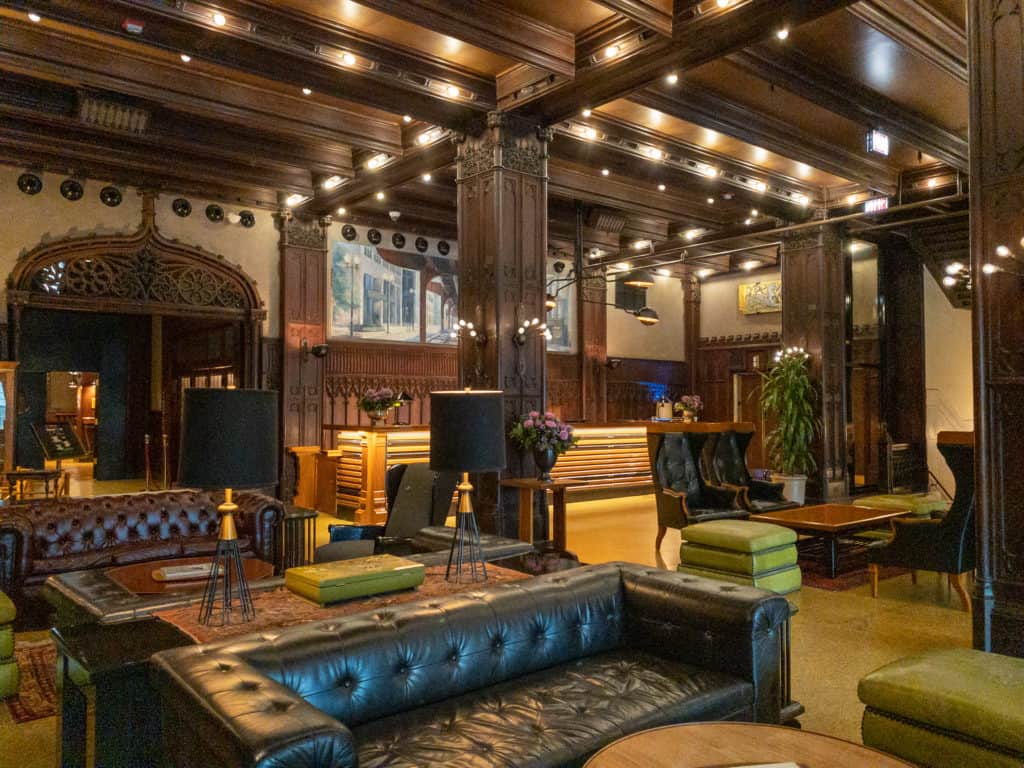 Located in a historic building that once housed one of Chicago's finest private clubs, the Chicago Athletic Association Hotel offers luxurious accommodations in a unique setting. It is prominently located on Michigan Avenue, directly across the street from Millennium Park.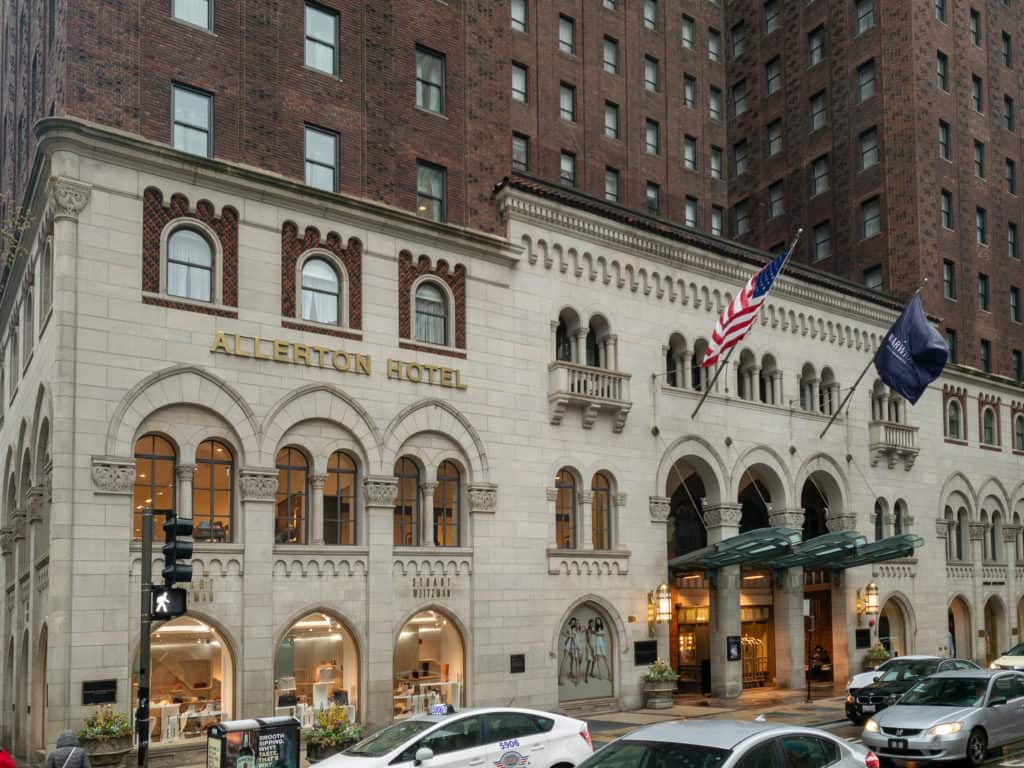 Still going strong after nearly a century of hospitality, the Warwick Allerton is one of Chicago's most historic hotels. Situated in a prime spot right along beautiful Michigan Avenue, the Warwick Allerton features well-appointed rooms and a host of desirable on-site amenities.